performance by Kimberley Acebo Arteche with Joshua Icban and Peekaboo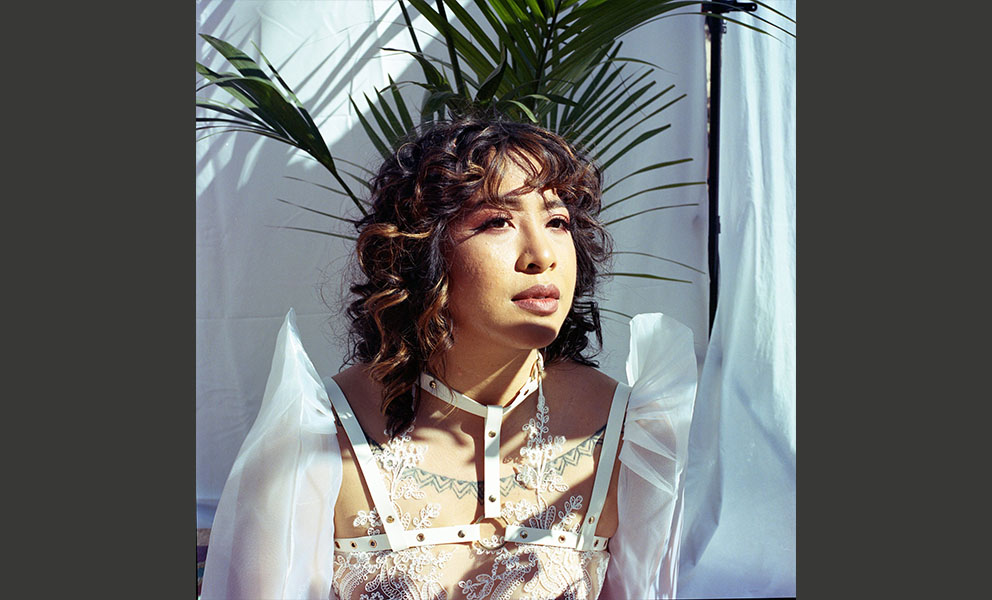 Friday, August 26 at 7pm (Doors at 6:30pm)
Saturday, August 27 at 2pm
RSVP Recommended
FREE

…until now is a site-responsive performance ritual by Bay Area-based Filipinx American artist Kimberley Acebo Arteche that pays homage to the shapeshifting survival strategies of artists and communities who grapple with how much of their intersecting identities can wholly appear in different spaces. Arteche's performance, with an accompanying soundscape by composer Joshua Icban and multi-instrumentalist Peekaboo, prompts witnesses to consider: How much queerness, how much brownness, how much culture, and how much divinity can we fit within the white walls of a gallery space in San Francisco, a city being engulfed by gentrification? Inspired by Carlos Villa's reclamation of ritual practices, Arteche makes an offering for healing to invoke our wholeness in these spaces and to wrestle with the discomfort that comes with being and becoming visible.

This performance was commissioned by Filipinx curator and scholar Thea Quiray Tagle for the exhibition Carlos Villa: Roots and Reinvention at the SFAC Galleries. She envisioned a series of site-specific performances made in the spirit of Villa's 1980 performance of Ritual at The Farm, a now-defunct cooperative arts space and educational center in the Mission District, which was located beneath the now-demolished 101 freeway interchange on Army Street (renamed to Cesar Chavez Blvd). Villa's intense performance was a ritual of decolonization and a reclamation of the Filipino body and history, in a city undergoing massive transformation. In this present moment of crisis and possibility, it is time for new rituals to be activated and more space to be reclaimed!
PERFORMER BIOS
Kimberley Acebo Arteche (she/they) is an educator, cultural worker, and interdisciplinary artist. Her work explores the hybrid cultures formed by technology, movements of immigrants in America, and the way movements through space and spaces has been affected by these two. Arteche received her BFA from the University of Maryland, Baltimore County, and MFA from San Francisco State University where she received the School of Art's Distinguished Graduate award. She has been awarded the Murphy Cadogan Contemporary Art Award by the San Francisco Foundation, was Kearny Street Workshop's Featured Visual Artist in the 2015 APAture Festival, and residencies at the Vermont Studio Center and the Growlery. She has shown at East Tennessee State University, SOMArts Cultural Center and at the Wailoa Arts & Cultural Center in Hilo, Hawaii. www.kimacebo.art

Joshua Icban (he/him) is a working musician/composer/sound designer and proud son of Vallejo, CA. He has had the privilege to work with a wide array of prestigious talents and organizations such as multi-Grammy award winner Fantastic Negrito, The San Francisco Symphony Orchestra with Micheal Tilson Thomas, KulArts under the direction of SFAC Legacy Artist Alleluia Panis, and Oakland Hip Hop Collective Grand Nationxl. Josh's original works have been showcased in spaces such as Counterpulse Theater, ODC, the Asian Art Museum, Bindlestiff Studios, Dance Mission, and Fringe Manila Arts Festival in the Philippines. Josh also holds an MA in ethnomusicology. His thesis, Kapwa in the land of milk and honey: Bay Area Filipino American identity, community, and music, discusses the generational contributions of Filipinx American musicians and immigrants to California culture and society. This knowledge informs his artistry readily as all territories of the world begin to reassess and reckon with their relationships with each other. Josh is currently the co-director of Firebird School of Music and Arts in Vallejo, CA. www.joshicban.com

Peekaboo (they/them) is an experimental cellist, composer, multi-instrumentalist, and youth educator situated on Ramaytush Ohlone land (SF). Their compositions are rooted in honoring the essence and spirit of past, present, and future Queer ancestors, prioritizing sonic exploration practices towards the decolonizination of Euro-centric structures embedded in youth and adult music education and performance. Through multiple collaborations with QTBIPOC2S Bay Area-based performers, they continue to work in togetherness, sonically activating bodily vibrations, readying the move towards non-binary Queer liberation, strengthening connections between Black, Indigenous, Latinx, and Filipinx ancestry, and celebrating freedom of expression, rest, and breath.