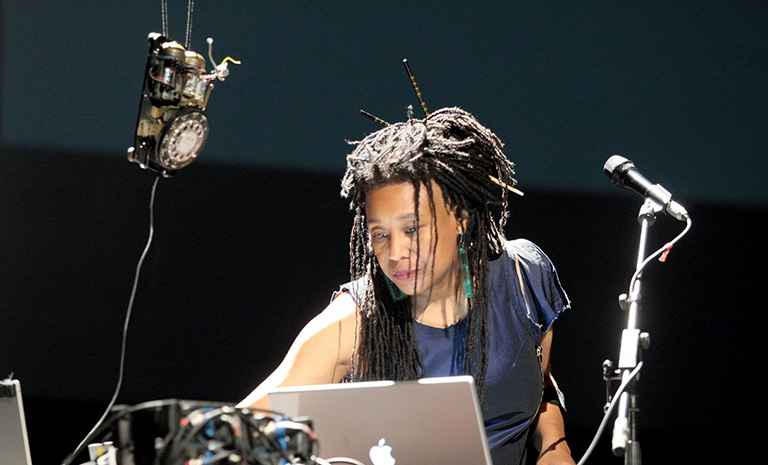 **ALL SEATS HAVE BEEN RESERVED – Standing room and floor seats will be released at the door depending on space. Add your name to the queue at the front desk when you arrive and we will start releasing spaces at 8:20pm**

Please Note: This performance will take place at The Lab, 2948 16th St, @ Capp St.
8:30 p.m. (Doors at 8 p.m.)
The SFAC is thrilled to present legendary composer, performer, and media artist Pamela Z in a live performance of works for solo voice, electronics, and projected image. This performance is planned in conjunction with side by side/in the world, an exhibition on view at the SFAC Main Gallery which explores the idea of sanctuary through the work of ten California artists including Pamela Z. For the exhibition, Z presents Suitcase, a mixed media installation which features a suitcase as both a bag and a home for a video projection of a vulnerable and inconsolable female subject that occupies it. Part of a larger work called Baggage Allowance, Suitcase asks the viewer to think about the things we carry with us both physically and emotionally when we travel by choice or by necessity.
In Z's own words: "As a touring artist working with technology, I spend a substantial portion of my days carting a curious and ever-changing collection of objects around the world with me. I've become a nomadic creature, always needing to have certain possessions at the ready—and always in some stage of packing or unpacking. I have amassed countless stories and an interesting perspective on the subject of baggage, and the experience has lead to a lot of self-examination and general curiosity about the attachment we develop for things we feel the need to keep with us."
Pamela Z is a composer/performer and media artist who makes solo works combining a wide range of vocal techniques with electronic processing, samples, gesture activated MIDI controllers, and video. She has toured extensively throughout the US, Europe, and Japan. Her work has been presented at venues and exhibitions including Bang on a Can (NY), the Japan Interlink Festival, Other Minds (SF), the Venice Biennale, and the Dakar Biennale. She's created installations and has composed scores for dance, film, and chamber ensembles (including Kronos Quartet). Her awards include the Rome Prize, a Guggenheim Fellowship, the Doris Duke Artist Impact Award, the Robert Rauschenberg Foundation residency, the Herb Alpert Award, and an Ars Electronica honorable mention, and the NEA/Japan-US Fellowship.

www.pamelaz.com
Event Partners