a panel exploring the successes and challenges of creating new work as an insider/outsider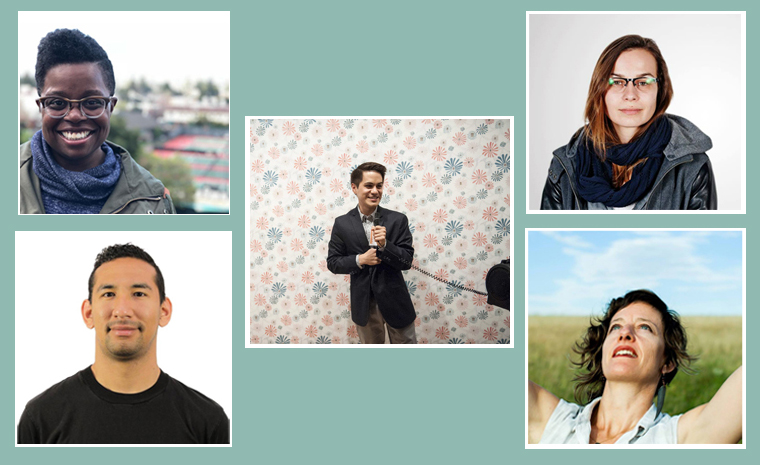 Organized and moderated by Jason Hanasik.
Panelists include Jose Alfaro, Krista DeNio, Amber Hoy, Michaela Leslie-Rule, and Rory Padeken.
For Crisscrossing Borders, a curator, filmmaker, performance artist, visual artist, and public health advocate sit down together to highlight some of the successes and challenges they've encountered in the process of generating or organizing new works and community building projects. From the perspectives of insiders and/or outsiders, the panelists explore how representations of race, class, queerness, gender, ethnicity, immigrants, and veteran populations are at the center of their work.

As makers, storytellers, and cultural producers they shepherd narratives into the world which represent, explore and/or provoke conversations about our own communities and/or identities, and the communities and/or identities we live among. The honor of this calling is fraught with the possibility of misrepresentation, an eclipse caused by blind spots, and the limitations and shadows of the larger cultural conversations. Come listen to these inspiring creators as they share their projects and learned experiences working with community.
Panelist Bios

JOSE ALFARO is a Senior Producer at Bayview Hunters Point Center for Arts and Technology (BAYCAT). His 7+ years of experience in award-winning filmmaking has ranged from producing, directing, and cinematography to editing documentary and narrative shorts. Alfaro thrives on learning and applying the latest in technology and production tools, and is the first BAYCAT intern graduate to join the team on a permanent full-time basis. With a B.S. in TV & Radio Broadcasting from San Francisco State University, Alfaro has been an instructor, mentor, and role model to BAYCAT's youth and young adult interns while also being an integral part of the BAYCAT Studio production team. baycat.org
KRISTA DENIO is an interdisciplinary choreographer, director, performer, writer and educator. Artistic Director of KD>>Moving Ground, she is committed to engaging interdisciplinary collaboration that bridges performance work, education and activism toward a socially just world. Krista is a House Artist at CounterPulse and a member of the International Interdisciplinary Artist Consortium. She is currently the Manager of the Art Program and Youth Advisory Board at Larkin Street Youth Services, and has taught dance and performance making throughout the Bay Area and country. She received her BA in Dance/Dramatic Art and I.S.F. [Development and Human Rights] from UC Berkeley and her MFA in Theater: Contemporary Performance from Naropa University. www.kristadenio.com | www.echotheatersuitcase.com
JASON HANASIK (moderator) is a filmmaker, artist, curator, and journalist. His work has appeared in The Guardian, the Smithsonian's National Portrait Gallery, The Los Angeles Times, in the academic journal Critical Military Studies, at various international film festivals and in solo and group exhibitions worldwide. His monograph, "I slowly watched him disappear" is in the collection of the Metropolitan Museum of Art, Stanford University and the Rhode Island School of Design. Hanasik has a Master's Degree from UC Berkeley's Graduate School of Journalism and a Master of Fine Arts from California College of the Arts. He is currently a resident at SFFILM's FilmHouse where he is developing his next film. www.jasonhanasik.com

AMBER HOY is an interdisciplinary artist and arts administrator based in Oakland, California. She is also a combat veteran (deployed to Qayyarah West, Iraq as an ammunition specialist from 2006-2007 with the 592nd Ordnance Company) whose artwork explores the intersection of women in the military and trauma. Hoy is the Artist Programs Manager at the Kala Art Institute in Berkeley, CA where she coordinates multiple artist programs including the Veteran Residency Program, Parent Artist Award and the Print Public Program Residency Program. These programs bring together artists from different parts of the world and varying practices with a focus on integrating communities with the arts. Hoy received a Bachelor of Arts degree with an emphasis in photography from University of Alabama at Birmingham in 2011 and a Master of Fine Arts degree in Photography + Integrated Media from Ohio University in 2015. amberhoy.com/home.html | www.kala.org
MICHAELA LESLIE-RULE is an artist, strategist and social scientist. Embedded in Leslie-Rule's approach to research, advocacy and communication is centering constituent voices through the use of storytelling and multimedia. She employs participatory methodologies for measuring and documenting social and organizational change, and has designed and implemented story-based projects on four continents. Current and recent collaborators include: Global Fund for Women, Astraea Lesbian Foundation, Memphis Music Initiative and Nike Foundation's Grassroots Girls Initiative. Michaela is a founding member of the Spiritual Technologies Project. With her collaborators she has produced A Charge To Keep, a series of short films and companion website that explores the tradition of metered hymn singing in African American churches in middle Georgia and the Gullah Islands. You can learn more about Michaela's work at factmemorytestimony.com
RORY PADEKEN is associate curator at the San José Museum of Art. In 2016, he organized Border Cantos: Richard Misrach | Guillermo Galindo, a visual and auditory exploration of the US-Mexico border and the realities of life in this contested zone. Recent projects include Tabaimo: Her Room (2016), Beta Space: Diana Thater (2015), and Around the table: food, creativity, community (2013). He is currently organizing the largest solo exhibition in the United States in more than a decade and editing a book-length publication on Dinh Q. Lê for fall 2018. This summer he opens Won Ju Lim's multi-media installation California Dreamin', recently acquired from the artist by SJMA. In development is an exhibition of new work by Pae White for spring 2019. His most recent essay, "Tomokazu Matsuyama: A Global Self," appears in Tomokazu Matsuyama: Oh Magic Night, published by Hong Kong Contemporary Art Foundation in 2017. sjmusart.org


This project is supported by the California Arts Council, Veterans Initiative Grant.