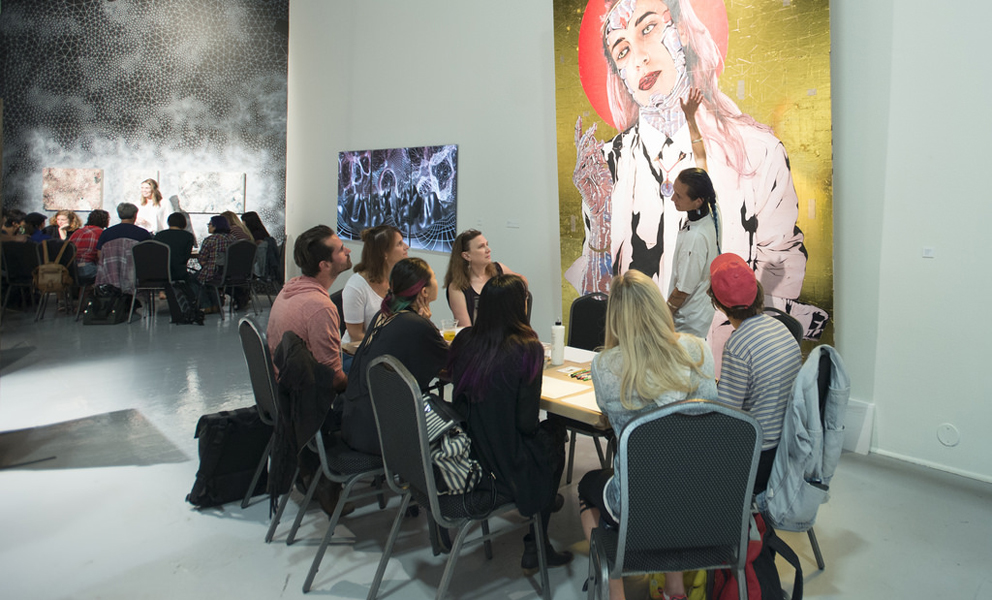 Here you will find job postings from arts organizations throughout the Bay Area that have been posted to the Arts Commission's
Facebook page
. If you'd like to add your job to this list, email a brief (2-3 sentences max) description along with a link to the application information online to
art-info@sfgov.org
.
VITAL ARTS, Executive Director
Vital Arts is accepting applications for a full time Executive Director. We are seeking a versatile individual, passionate about Vital Arts' mission, with experience in advocacy, organizational management and fundraising to be our first Executive Director. This is a good opportunity for an experienced arts professional to bring the organization to its next level of impact in support of artists and a healthy local arts ecosystem. The Executive Director provides leadership and strategic direction for activities that enhance Vital Arts' mission. The position shapes strategies and leads efforts to develop diversified foundation, individual, public, and corporate funding sources for operations and capital projects and serves as an articulate, passionate, and persuasive spokesperson for the organization to members, funders, the public, government and private agencies, and the media; and oversees the efforts of staff and volunteers.
Application Deadline: Ongoing
Email Resume to: kathryn@vitalarts.org
Pay Rate: FTE $90,000-$100,000
The Museum of the African Diaspora, Events Manager
MoAD's Development Department is growing and is hiring for a new position of Events Manager. The Events Manager ensures the vision and mission of MoAD is communicated and demonstrated across all internal member events and external facility rental events and experiences while focusing on cultivation and stewardship, understanding that each event acts as a platform for building a pipeline of donors and prospects necessary for a thriving future of the organization.
Application Deadline: Ongoing
Email Resume to: devjobs@moadsf.org
Pay Rate: $65,000 - $80,000 depending on experience
RAWdance, Managing Director
RAWdance is looking for a full-time Managing Director to strengthen the company's community connections and financial capacity. Reporting to the Artistic Directors, the position is San Francisco-based with a primary focus on business development and operations. Ultimately we are looking for a candidate who brings both tangible skills and their own unique perspective to the table, and is interested in growing while pushing the organization forward!
Application Deadline: Ongoing
Email resume to: raw@rawdance.org
Pay Rate: $64,480 annually
Bayview Opera House, Director of Finance
Bayview Opera House is accepting applications for the position of Director of Finance. The Director of Finance is responsible for overseeing the company general ledger, producing financial reports for all internal and external financial statement users, and supervising the day-to-day operations of the financial reporting and accounting functions for the organization. They will manage budget oversight and actual expenses for the operating fund and grant programs. This position reports to the Executive Director, Nonprofit Finance, as well as progressive supervisory experience, is required.
Application Deadline: Ongoing
Email Resume to: executivehrsolutions1@gmail.com
Salary: Up to $85,000
The Museum of the African Diaspora, Visitor Experience Associate
The Museum of the African Diaspora (MoAD) is accepting applications for the position of Visitor Experience Associate. The Visitor Experience Associate plays a key role by supporting the daily responsibilities of the Museum's admissions desk and retail operations, and staffing the front desk, serving as the initial welcome for all visitors. This position interfaces with the public and ensures that the general appearance of all work and lobby areas are well maintained. They serve as an ambassador for MoAD, proactively providing visitors with information about exhibitions, programs, and memberships, and setting the foundation for visiting the museum space. This department is responsible for overseeing both the physical and online MoAD bookstore, one of the only Black bookstores in San Francisco.
Application Deadline: Ongoing
Email Resume to: devjobs@moadsf.org
Salary: Up to $70,000 - $80,000 depending on experience