Dreaming in Color Symposium
a two-day symposium celebrating the contributions of artist Juana Alicia Araiza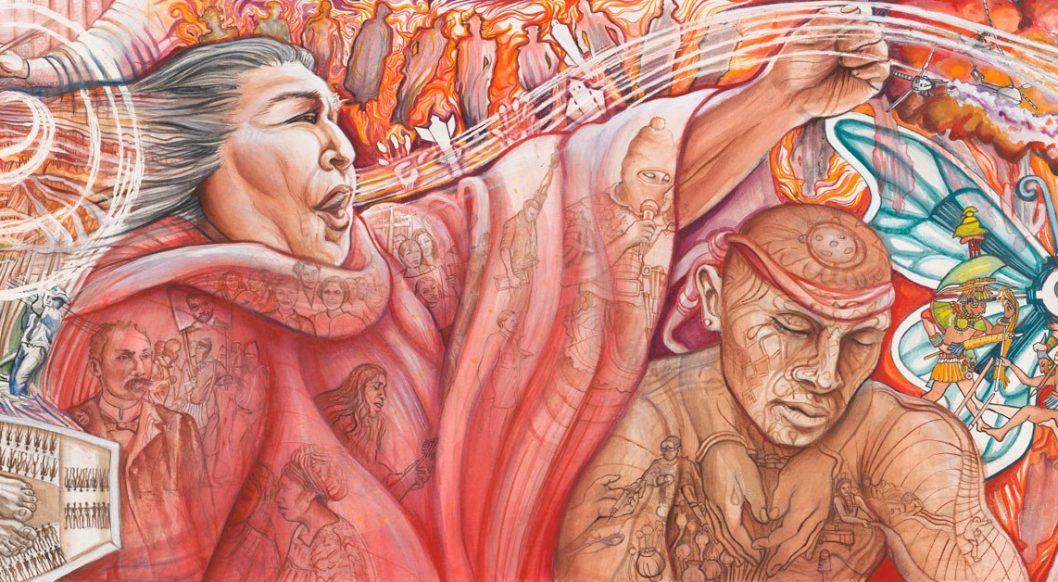 September 8-9, 2023
Multiple locations. See details below.
Space is limited. Please RSVP for one or both days.
Free and open to the public.
The San Francisco Arts Commission in partnership with the Latinx Research Center at UC Berkeley is excited to present Dreaming in Color a two-day symposium celebrating artist Juana Alicia Araiza. Planned in conjunction with the solo exhibition Me Llaman Calle: The Monumental Art of Juana Alicia, this symposium highlights Juana Alicia's important contributions as an artist and the influence she has had on generations of artists.
Panelists include Juana Alicia Araiza, Cece Carpio, Maria Castro, Claudia A. Escobar, Lucia Gonzalez Ippolito, Irene Pérez, Laura E. Pérez, and Marina Pérez-Wong
Note: The entire symposium will be video recorded and shared on our Vimeo Channel. Email sfac.galleries@sfgov.org with any questions.

Schedule of Events
Day 1: Friday, September 8 | 6:00-8:00 pm
Latinx Research Center, 2547 Channing Way, Berkeley, CA 94704 (map)
SOLD OUT. Livestream here
5:30 pm Doors Open
6:00-6:15 pm Opening Remarks and Introductions
Laura E. Pérez , Director of the Latinx Research Center at Berkeley
Carolina Aranibar Fernandez, Director of Galleries and Public Programs at the San Francisco Arts Commission
6:15-7:00 pm KEYNOTE by Juana Alicia Araiza
Keynote speaker: Juana Alicia Araiza, artist
7:00-7:30 pm Conversation with Juana Alicia Araiza
Moderator: Laura E. Pérez , Director of the Latinx Research Center at Berkeley
7:30-8:00 pm Reception
Day 2: Saturday, September 9 | 2:00-6:00 pm
Brava Theater, 2781 24th Street., San Francisco, CA 94110 (map)
Spanish interpretation available
1:00 pm Lobby Opens
1:30 pm Doors Open
2:00-2:15 pm Opening Remarks and Introductions
Anastasia Powers Cuellar, Executive Director of Brava! for Women in the Arts
Ralph Remington, Director of Cultural Affairs at the San Francisco Arts Commission
Marco Antonio Flores, Curator of Me Llaman Calle: The Monumental Art of Juana Alicia
2:15-3:30 PANEL 1 - Claiming Social Space: Visibility in Las Muralistas
Screening of Las Muralistas: Our Walls Our Stories (SFMOMA 2022) followed by a conversation moderated by Maria Castro Assistant Curator of Painting and Sculpture at San Francisco Museum of Modern Art.
Panelists
Juana Alicia Araiza, artist
Claudia A. Escobar, filmmaker and editor of Las Muralistas: Our Walls Our Stories
Irene Pérez, artist
Moderator: Maria Castro, Assistant Curator of Painting and Sculpture at San Francisco Museum of Modern Art
3:30-3:45 pm Break
3:45-5:15 pm PANEL 2 - Generational Wisdom: Making Space for Future Artists
Intergenerational panel of artists in conversation about mentorship and legacy. Moderated by artist Cece Carpio.
Panelists
Juana Alicia Araiza, artist
Lucia Gonzalez Ippolito, artist
Marina Pérez -Wong, artist
Moderator: Cece Carpio, artist
5:15-6:00 pm Reception

Symposium Notes
Day 1 at Berkeley will be live streamed on the Latinx Research Center YouTube Channel.
Spanish interpretation will be available for Day 2 at Brava. Please specify if you'll need interpretation when you register for tickets.
The entire symposium will be video recorded and shared on the SFAC Vimeo Channel.

Panelist bios

Juana Alicia Araiza has been creating murals and working as a printmaker, sculptor, illustrator, and studio painter for over thirty years. Her style, akin to genres of contemporary Latin American literary movements, can be characterized as magical and social realism, and her work addresses issues of social justice, gender equality, environmental crisis and the power of resistance and revolution. Juana Alicia has been the recipient of a Fulbright Fellowship, a California Arts Council Individual Legacy Fellowship, Master Muralist Award (Precita Eyes), Woman of Fire Award, and Eureka Fellowship among other recognitions. Her sculptural and painted public commissions (individual and collaborative) can be seen in Nicaragua, Mexico, Pennsylvania and in many parts of California, most notably in San Francisco. In collaboration with her sister muralists, Juana Alicia published MAESTRAPEACE: San Francisco's Monumental Feminist Mural (Heyday Books, 2019) and is now collaborating with Tirso G. Araiza on a graphic novel titled La X'Tabay which will be featured in an exhibit at the Museum of Anthropology in Mérida, Yucatán in the winter of 2023. www.juanaalicia.com
Cece Carpio uses acrylic, ink, aerosol to tell stories of immigration, ancestry, resistance, and resilience. She documents evolving traditions by combining folkloric forms, bold portraits, and natural elements with urban art techniques. Living and working in the Bay Area, Carpio is inspired by the cultural potency of communities of color and the prominent history of social movements that have become influential expressions for the rest of the world. As a visual storyteller, Carpio paints everyday people to lift up her communities, to share their stories of resilience, and to provoke the power of their imagination. Carpio has produced and exhibited her work in Cuba, Fiji Islands, Guam, Guatemala, India, Ireland, Italy, Mexico, Nepal, Nicaragua, Norway, the Philippines, the United Kingdom, and the United States. In 2023, she was awarded the Constellations Fellowship by the Center for Cultural Power to work collaboratively with Sogorea Te' Land Trust. She is the recipient of the YBCA 100 Honor, the Rockwood Institute Fellowship, the New York Foundation of the Arts Immigrant Artist Fellowship and has had residencies at the Aurora Arts and Space Program in Aurora, Philippines, the Asian Art Museum in San Francisco, and KulArts in San Francisco. Carpio is a longtime member of the collective Trust Your Struggle. www.cececarpio.com
Maria Castro is assistant curator of Painting and Sculpture at SFMOMA. She holds a PhD in History of Art and Architecture from the University of Pittsburgh and specializes in modern and contemporary art with a focus on art of the Americas. At SFMOMA, she has curated, co-curated, or contributed to exhibitions including Diego Rivera's America, Pan American Unity: A Mural by Diego Rivera, Amalia Mesa-Bains: Venus Envy, Chapter I and Madrinas y Hermanas (Godmothers and Sisters), and Sitting on Chrome: Mario Ayala, rafa esparza, and Guadalupe Rosales, and Open Ended: SFMOMA's Collection, 1900 to Now. Her research has been supported by a Leonard A. Lauder Fellowship in Modern Art, The Metropolitan Museum of Art, and an Andrew Mellon Predoctoral Fellowship, University of Pittsburgh. www.sfmoma.org
Claudia A. Escobar is a Colombian visual artist currently based in San Francisco, California. Over the past 15 years, she has produced, directed, filmed, and edited videos for KQED/PBS, Aljazeera, Mission Local, The New York Times, National Geographic, MSNBC, independent documentaries, music videos, and award-winning experimental films. After moving to the United States in 2004, Escobar encountered documentary filmmaking and since then, she has embarked on a journey of exploring her new home, its people, and the stories of other migrants who, like her, have experienced life as undocumented individuals, with all its complexities, sorrows, hardships, joys, and experiences in an unfamiliar land. In addition to her career in documentary journalism and video production, Escobar has also cultivated her own artistic practice, creating animations and illustrations that delve into her own inquiries about the magic and invisible worlds of the dreamland. She serves as a creative producer at the Oakland Museum in California and is in the development phase of a new film, where she is trying her hand at fictional story telling. www.clautopia.com
Lucia Gonzalez Ippolito is a Mexican American artist, teacher, and activist born and raised in the San Francisco Mission District. As a Chicana growing up in a Latino neighborhood that has been vastly impacted by gentrification, Lucia felt it her duty from a young age to focus on cultural/political themes in her artwork. As a muralist, she directed and designed the Mission Makeover Mural, 25-foot mural that covers issues of wealth and displacement in the Mission neighborhood, and the Women of the Resistance mural, depicting 38 women activists; both murals in San Francisco's Balmy Alley. She was a lead collaborator on the most recent and largest mural of the Latino Cultural District, Alto al Fuego en la Mision, honoring the life of Amilcar Perez Lopez, above the Calle24 offices on 24th and Capp streets. Internationally, Lucia co-created a 5′ x 5′ tile mural for a youth organization in the Dheisheh Refugee camp in Palestine. www.cialuart.com
Irene Pérez is an artist based in Oakland, California. Her mother was born in Zacatecas, Mexico and her father was born in Sierra Blanca, Texas. Pérez studied illustration at the Academy of Art University in San Francisco and printmaking at the San Francisco Art Institute. She was cofounder of Mujeres Muralistas, a group of Chicana artists who collaborated to create large scale outdoor murals throughout the Bay Area that reflected the art and beauty of Mexican/Chicana women and culture. The Mujeres Muralistas' pioneering work sparked the movement of women muralists in the United States and Mexico. In 1994, Pérez collaborated with artists Juana Alicia, Miranda Bergman, Edythe Boone, Susan Kelk Cervantes, Meera Desai, and Yvonne Littleton painted the iconic Maestrapeace mural on the façade of the Women's Building in San Francisco. Pérez's prints and paintings have been exhibited widely nationally and internationally.
Laura Elisa Pérez co-curated Chicana Badgirls: Las Hociconas (2009); Labor+a(r)t+orio: Bay Area Latina@ Arts Now (2011); and with María Esther Fernández, Amalia Mesa-Bains: Archaeology of Memory (2023). She is the author of Chicana Art: The Politics of Spiritual and Aesthetic Altarities (Duke University Press 2007), Eros Ideologies: Writings on Art, Spirituality, and the Decolonial (Duke University Press 2019) and co-editor, with Ann Marie Leimer, of Consuelo Jimenez Underwood: Art, Weaving, Vision (Duke University Press 2022) and of the exhibition catalog Amalia Mesa-Bains: Archaeology of Memory (University of California Press and Berkeley Art Museum and Pacific Film Archive 2023) She is Chair of the Latinx Research Center and Professor of Latinx and Ethnic Studies at University of California, Berkeley. www.berkeley.edu
Marina Pérez-Wong is a cancer survivor and thriver, mixed race, San Francisco- "Mission girl" who comes from a long line of artists, caregivers, union workers, revolutionaries and humanitarians. In the 1980's the Mission District was a cultural hub filled with Mexican, Caribbean, and Central and South American people. Many were visual artists, muralists, writers, poets, performance artists and activists. Pérez-Wong's mother was a photojournalist who documented these artists and important local events including the 1989 earthquake and Cesar Chavez's movement. It was this foundation that helped shape her own visual voice. Since 2000, Pérez-Wong has worked as a muralist and teaching artist throughout the Bay Area and New York City and has created and collaborated on murals for the San Francisco Giants, Kerry James Marshall, The Asian Art Museum, Emory Douglas, The Chinese Historical Society Museum, Toyin Odutala, Google, Chase Stadium, The College Board, The Door NYC, and the Asian Pacific Islander Environmental Network (APEN) among others. In 2013, she co-founded Twin Walls Mural Company alongside her longtime best friend and mural partner Elaine C. Chu. www.twinwallsmuralcompany.com

Program Partners

Program Sponsors