The Fab Four and a Godfather of Abstract Painting Come Together at San Francisco International Airport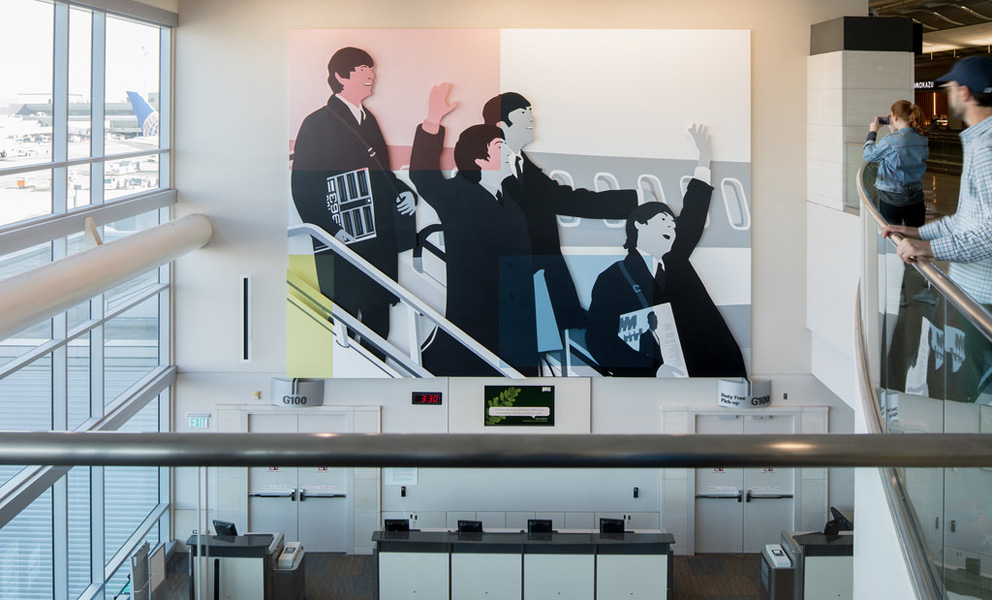 Bay Area artist Kota Ezawa pays homage to The Beatles and Piet Mondrian in the San Francisco Arts Commission's latest public art installation
SAN FRANCISCO, October 30, 2017 – The San Francisco Arts Commission's latest commission for San Francisco International Airport Gate Room 100 imagines a meeting between revolutionary artists: The Beatles and an early pioneer of abstract painting, Piet Mondrian.
"We are thrilled to add this exceptional work by Kota Ezawa, a celebrated local artist, to the City's Civic Art Collection," said Director of Cultural Affairs Tom DeCaigny. "This exuberant installation contributes to a friendly and welcoming atmosphere at SFO, and travelers will love being either greeted or sent off by one of the world's most beloved bands."
Mondrian Meets The Beatles is a 26 x 30-foot, three-dimensional wood cutout consisting of a well-known image of The Beatles based on a photograph taken at JFK airport on The Beatles' first US Tour in 1964. The scene of the four musicians exiting the airplane is laid out and constructed in a fashion that resembles a pop-up book page with foreground, middle ground and background layers. Overlaid on the image is a color-field composition referencing a painting by Mondrian, Composition C, 1935. Red, yellow and blue rectangles superimposed onto all three layers of the diorama create an optical effect that counteracts the perception of three dimensionality and builds a tension between the two visual elements of the artwork.
According to Ezawa, "By combining an archival image with an abstract composition, this work attempts to free the photograph of its documentary status while adding a narrative to a set of seemingly static primary color fields." He adds, "More important than the specific location where this image was taken is the fact that the Beatles last final live concert was at Candlestick Park in San Francisco in 1966 only a few miles away from the location of the mural."
"We're committed to revolutionizing the airport experience, and the inspiring public artwork program at SFO supports that ambition," said Airport Director Ivar C. Satero. "We are grateful for the efforts of the San Francisco Arts Commission, and we are excited to feature the delightful work of Kota Ezawa at SFO."
ABOUT THE ARTIST
Kota Ezawa draws from the histories of media, popular culture, and art history to create distilled renderings of iconic images. His simplified versions of indelible images remain easily recognizable and potent, the result of a process that illuminates the hold certain images have on their viewers. Working in a range of mediums such as digital animation, slide projections, light boxes, paper cut-outs, collage, print, and wood sculptures, Ezawa maintains a keen awareness of how images shape our experience and memory of events.
Other Online Resources