San Francisco Airport Gets Major Dose of Color
Multidisplinary artist Leah Rosenberg debuts a new installation at SFO's International Terminal inspired by San Francisco's ever-changing colors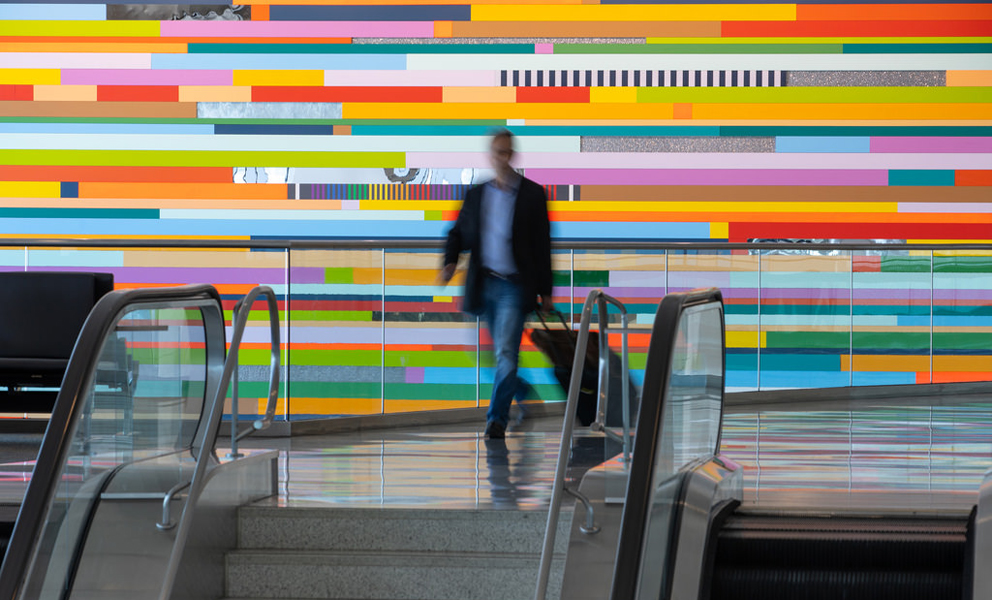 SAN FRANCISCO – For Leah Rosenberg, San Francisco's distinctive physical and cultural landscape is filled with color inspiration. From the fog to the famous International Orange of the Golden Gate Bridge to the bunches of kale at the Ferry Building's farmer's market, these details create a palette that captures the unique character of San Francisco. For her installation, Everywhere, a Color, at San Francisco International Airport's International Terminal Gate G, she created a colorful portrait of the City that she hopes will "connect everyone from everywhere".
According to Director of Cultural Affairs Tom DeCaigny, "Known for her innovative and playful use of color, Leah Rosenberg has created an exuberant portrait of San Francisco that will have an instant impact on folks passing through the Gate room."
Mounted on the wall above the check-in desk in Gate room G96, Everywhere, a Color, is 20 feet high by 27 feet wide and comprised of a patchwork of solid colored and patterned wood slats with accents of powder-coated aluminum, and acrylic mirror. Each material adds a specific textural, reflective, and dimensional quality to the piece. Patterned slats pieced in feature snippets of scenes from the Castro crosswalk to San Francisco Museum of Modern Art's turret. Activity on the tarmac outside the terminal is reflected in pieces of mirrored plexi, which adds a cinematic element to the whole.
In creating this portrait, or as the artist describes "sort of map", of San Francisco, Rosenberg became a tourist herself, "gathering" colors she encountered during various outings and also asking others who live here what colors stand out to them. According to the artist, "I am interested in tapping into our various senses, while also conjuring memory and the importance of togetherness so that I am not just gathering color; but gathering the psyche of what brings color to the lives of people."
"Public artwork creates a unique sense of place for guests at SFO," said Airport Director Ivar C. Satero. "This latest example from Leah Rosenberg transforms our boarding gate into a vibrant space that travelers from around the world can enjoy. We thank the San Francisco Arts Commission for their continuing contribution to our Airport."
Other Online Resources