San Francisco Arts Commission Announces Four San Francisco-Based Artists Have Been Selected To Participate In A Unique Municipal Residency Program At San Francisco Public Library
Representing diverse artistic practices, Christopher Burch, Celeste Chan, Tossie Long, and Preethi Ramaprasad will spend ten weeks embedded at the Library as Artists in Residence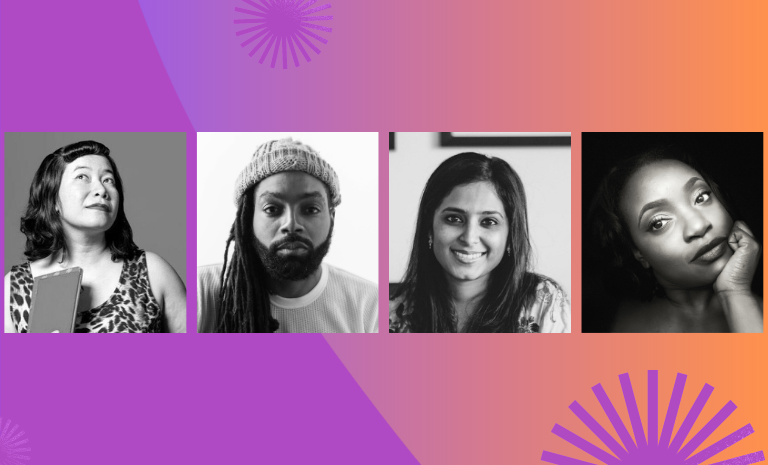 (SAN FRANCISCO, June 27, 2023) – The San Francisco Arts Commission (SFAC), in partnership with San Francisco Public Library (SFPL), is pleased to announce the selection of four San Francisco-based artists for the second year of the SFAC Artist in Residence (AIR) program at SFPL. 
Artists Christopher Burch (visual artist), Celeste Chan (writer and filmmaker),  Tossie Long (vocalist and sound artist), and Preethi Ramaprasad (dancer), and, will spend 10 weeks in residence conducting research and embedding into the fabric of day-to-day activities at SFPL, both behind the scenes and interfacing with the public. Each artist will then respond by creating artwork reflecting on their one-of-a-kind residency experience. 
"We are very excited to welcome the new cohort of artists in residence and to take them behind-the-scenes to discover everything that makes us an exceptional library system," says City Librarian Michael Lambert. "We can't wait to see what they come up with and to partner with the Arts Commission to share their projects with the City." 
Since 2015, the Artist in Residence program has provided unique opportunities for artists to step into City Departments with unprecedented access to participate in and respond to City processes. City employees also benefit from close contact with visionary artists offering diverse perspectives on important issues facing our city today. To date, the SFAC has paired 11 local artists at the SFPL, SF Covid Command Center, SF Planning Department, and City Hall. 
"The San Francisco Arts Commission is thrilled to continue the Artists in Residence program and to once again partner with the Public Library to bring together four multidisciplinary artists for this truly unique opportunity," said Ralph Remington, Director of Cultural Affairs. "Connecting local artists with local government agencies will help provide an inside look for the public, into how governments work, from an artistic perspective. I'm excited to see how each of these artists will express and showcase the phenomenal work of the San Francisco Public Library." 
 
2023 SFAC Artists in Residence at the SFPL 
Christopher Burch is an artist and educator. Burch's work conflates the distinctions between the lived and living human experience, mythology, folklore, and history. Influenced by the accounts of painting, narrative, portraiture, landscape, folklore, surrealist literature, and Black rituals of transfiguration, Burch's work explores life and death, rebirth, retribution, and the afterlife as an ever-evolving thematic structure. Through his work, the artist becomes storyteller, expounding upon human testimony at the intersection of myth, identity, and power. Burch received the Painting Fellowship for his graduate studies at the San Francisco Art Institute (MFA 2008). He has exhibited work internationally as well as throughout the Bay Area at the Museum of African Diaspora, Luggage Store Gallery, White Walls Gallery, Yerba Buena Center for the Arts, and the Headlands Center for the Arts.  
Celeste Chan is a writer and artist, schooled by Do-It-Yourself culture and immigrant parents from Malaysia and the Bronx, NY. Chan co-founded Queer Rebels, an organization devoted to queer and trans artists of color. She was a longstanding guest curator for MIX NYC Experimental Film Festival and OUTsider Fest in Austin, TX. She toured the West Coast with Sister Spit, and screened films in Montreal, Tijuana, Paris, Berlin, and beyond. Chan's writing can be found in Alta Journal, The Rumpus, cream city review's genrequeer folio, Gertrude, and Citron Review. She's a 2023 Periplus fellow, SF Writers Grotto member, and a Hedgebrook and Bread Loaf alumna. Chan is now focused on writing her family memoir. 
Tossie Long is a multi-hyphenate Grammy-nominated performing artist, producer and director that speaks to the intersections of music, culture and sociopolitical edges spanning from rock and roll vocals to Afrofuturist immersive productions. A generational San Franciscan nicknamed "Bone Rattler," Tossie is a practitioner of ceremonial music from around the world with a focus on diasporic cosmology. As an ethnomusicologist: Tossie has voyaged to Ayiti, Cuba, Benin, and New Orleans tracing the migration of Vodou for a holistic investigation of the music in its cultural contexts. Tossie is currently working on Red Clay Sound Haus (RCSH) a multi-site, multi-part, immersive sound project with four thematic directives—Land, Love, Labor, and Legacy—which explores Black sound, body, architecture, and desire. 
Preethi Ramaprasad is a multifaceted transnational dancer, musician, and researcher. She has toured and taught Bharatanatyam, a form of South Indian dance, in India, Europe, and the United States. She co-curates the Varnam Salon, When Eyes Speak Choreography Festival, and Performing Voices of Bhakti which all aim to create safe spaces to share South Asian expressive arts in the diaspora. Ramaprasad's work has been funded by and earned accolades from the San Francisco Arts Commission, Gluck Fellows Program of the Arts, Zellerbach Family Foundation, American Conservatory Theater ArtShare Fellowship, Deborah Slater Dance Theater, SAFEhouse Arts, and the All-Rounder Yuva Kala Bharati for Young Artists. Ramaprasad is a doctoral candidate in Critical Dance Studies at UC Riverside. Her research focuses on representation and the performance of myth among transnational Bharatanatyam practitioners. 
### 
About the Artists in Residence Program 
Launched in September 2015, the Artist in Residence program is overseen by the San Francisco Arts Commission Galleries and is an ongoing program that seeks to build partnerships with a variety of City Departments in order to provide unique residency opportunities that result in strengthening the value of artists participating in the advancement of civic dialogue.  
About The San Francisco Arts Commission 
The San Francisco Arts Commission (SFAC) is the City agency that champions the arts as essential to daily life by investing in a vibrant arts community, enlivening the urban environment and shaping innovative cultural policy. Our programs include: Civic Art Collection, Civic Design Review, Community Investments, Public Art, SFAC Galleries, and Art Vendor Licensing. To learn more, visit sfartscommission.org. 
About San Francisco Public Library 
San Francisco Public Library is dedicated to free and equal access to information, knowledge, independent learning and the joys of reading for our diverse community. The library system is made up of 27 neighborhood branches, the San Francisco Main Library at Civic Center and four bookmobiles. To learn more, visit sfpl.org.