Title or Type of Business:
Address:
Arts Ed Matters c/o Intersection for the Arts
925 Mission Street
Role:
Arts Administrator/Coordinator
Category:
Workshop
Professional Development
Advocacy & Community Organizing
Program Description:
Arts Ed Matters advocates for a strong presence of the arts in public education. We believe that early and sustainable exposure to the visual and performing arts fosters a more complete process of learning, builds healthy and vibrant communities, and prepares students to enter an ever-changing global landscape. In addition to providing high-quality professional learning opportunities, we foster community dialogue and engage families in the vital role of the arts in education.
Subject:
History
Language Arts
Math
Science
Upload picture: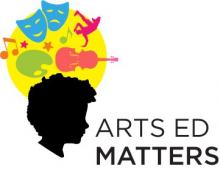 Professional Development Type:
Arts Integration
Deepening Disciplinary Knowledge