Title or Type of Business:
Nonprofit Music School and Performance Space
Program Description:
The mission of Community Music Center is to make high quality music accessible to all people, regardless of their financial means. Classes are offered on a sliding scale and some are completely tuition-free. CMC students range in age from a few months to nearly 100 years old, and they enjoy classes in everything from Western classical to Chinese to Latin Music. Last year over 2,400 students of all ages studied at CMC and thousands attended CMC performances.
Grade Level:
Pre-K
TK
Grades K-5
Grades 6-8
High School
Post High School
All Ages
Adults
Seniors
Upload picture: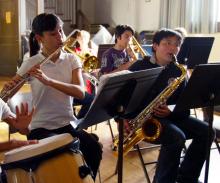 Professional Development Type:
Deepening Disciplinary Knowledge
Organization Type:
Arts Education Organization
School
Summer Camp