2021 Art on Market Street Poster Series Artists Respond, Reconsider and Reimagine the Idea of a Public Monument
Katie Dorame kicks off the San Francisco Arts Commission 2021 Art on Market Street Poster Series reimagining public monuments that honor Native Californian tribes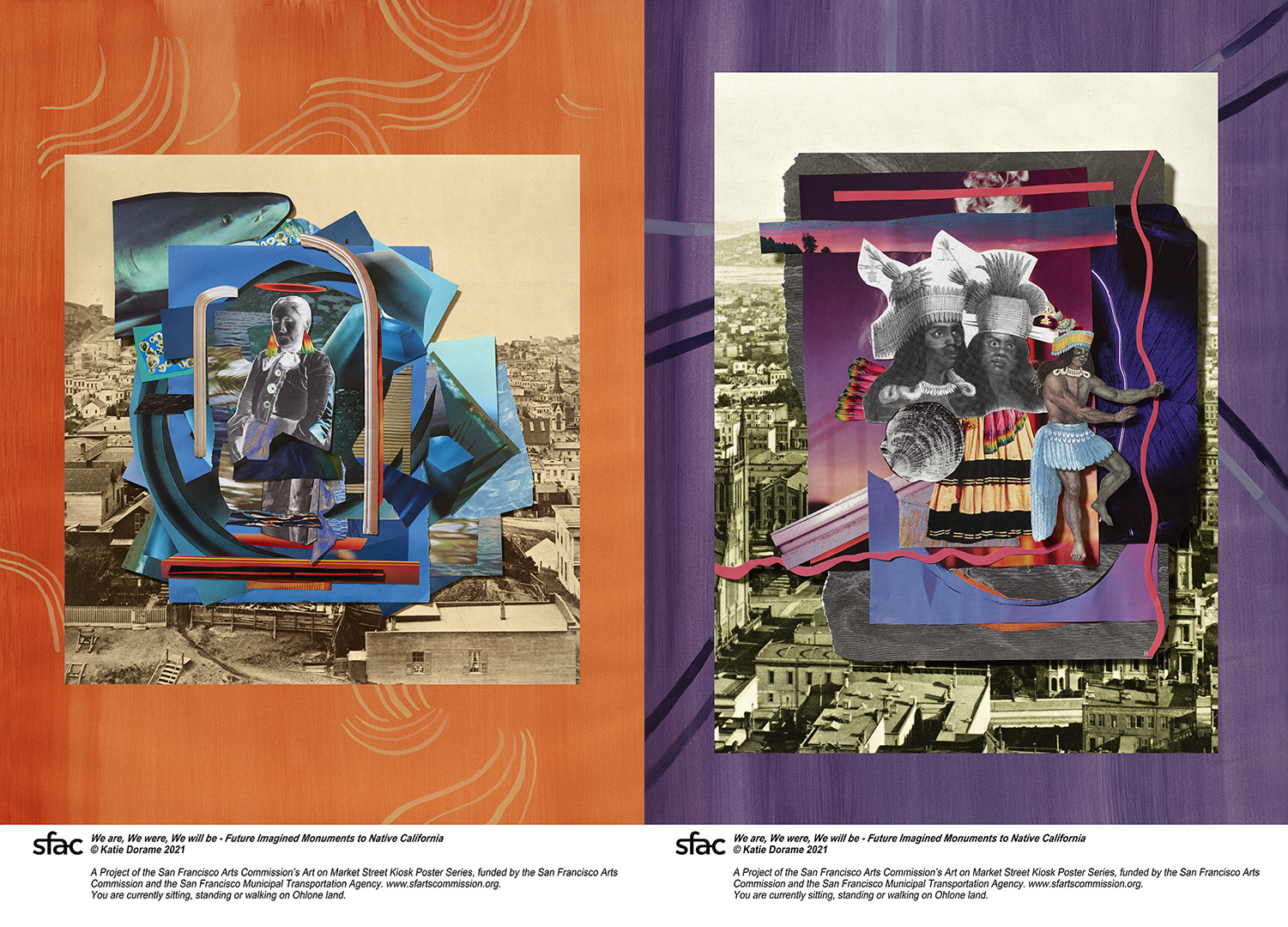 SAN FRANCISCO, March 30, 2021 – For its 2021 Art on Market Street Poster Series, the San Francisco Arts Commission (SFAC) invited artists to reconsider, respond to, and reimagine the idea of a public monument. They were asked to think about what form—from the serious to the fantastic—these imaginary future monuments would take and what people, places, or events—whether real or imagined—should be memorialized. Katie Dorame kicks off the series with her project titled We Are, We Were, We Will Be, a collection of imagined future monuments that honors Native Californian tribes.
In We Are, We Were, We Will Be, Dorame wanted to increase the visibility of Native Californians and create a visual experience that celebrates the Indigenous communities that lived and still live here. For the posters, Dorame, a member of the Gabrielino/Tongva tribe, imagined a series of weightless monuments, floating over San Francisco. Each poster consists of three layers that intertwine collaged images of Native Californian iconography, Indigenous people and artifacts with images lifted from Eadweard Muybridge's 1877 photographic panorama of San Francisco and watercolor paintings by Dorame. The resulting work honors the Indigenous people whose land we now occupy, while also acknowledging the history of displacement that allowed San Francisco to be built. A text at the bottom of each poster reads, "You're currently sitting, standing, or walking on Ohlone land."
Bay Area-based artist Katie Dorame states, "Acknowledging the Ohlone land that you and I live on, and the diverse tribal communities that inhabit the state from Yurok to Kumeyaay and the many in between, I made these future imagined monuments to elevate, honor, and respect the contributions Native Californians have made and continue to make to the living, breathing place we call home: California."
"Katie Dorame's series is an important acknowledgement of the Indigenous people that stewarded, thrived, and lived on this land we call San Francisco, but that was once Ramaytush Ohlone land," said Director of Cultural Affairs Ralph Remington. "The work is a stunning testament to the Native community and with the use of imagery by Muybridge and the found images of the California landscape, it reminds us of our powerful connection to place, and the histories that brought us here today."
The San Francisco Arts Commission is the City agency that champions the arts as essential to daily life by investing in a vibrant arts community, enlivening the urban environment and shaping innovative cultural policy. Our programs include: Civic Art Collection, Civic Design Review, Community Investments, Public Art, SFAC Galleries, and Art Vendor Licensing. To learn more, visit sfartscommission.org.
To view all 6 images of Katie Dorame's "We are, We were, We will be" posters, please click here.