Art on Market Street Poster Series Honor and Explore Queer Culture for San Francisco's 50th Anniversary of Gay Pride
Sadie Barnette kicks off the San Francisco Arts Commission's Celebrating 50 Years of Gay Pride themed Art on Market Street Poster Series with work that honors the New Eagle Creek Saloon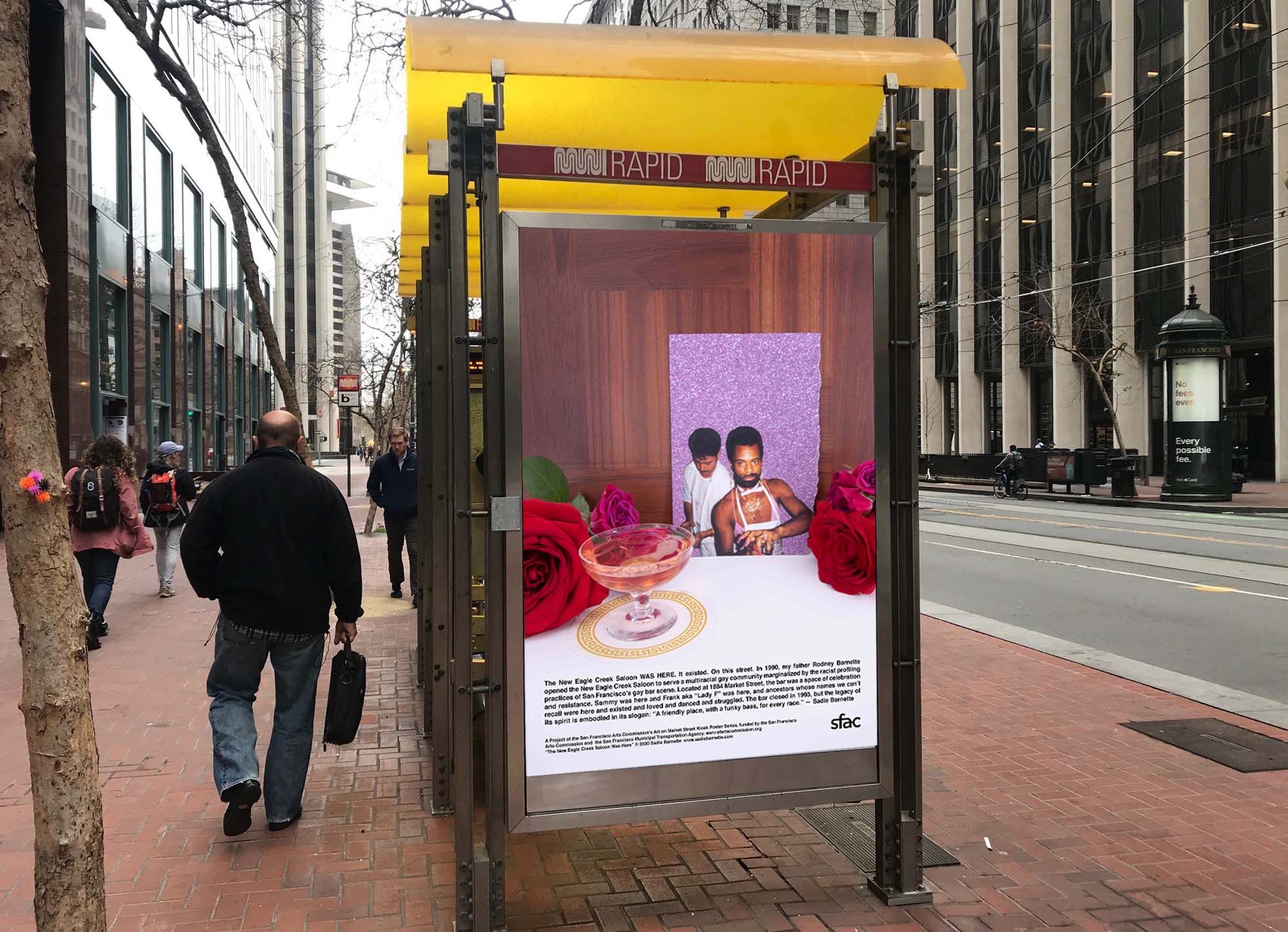 SAN FRANCISCO, March 9, 2020 – For its 2020 Art on Market Street Poster Series, the San Francisco Arts Commission (SFAC) invited artists to explore and honor the diverse people, places and events of San Francisco's rich queer culture. Sadie Barnette kicks off the 2020 series with her project titled The New Eagle Creek Saloon Was Here, a reimagining of her father's bar, the New Eagle Creek Saloon, which was the first black-owned gay bar in San Francisco that catered to a multi-racial clientele located on Market Street from 1990-1993.
"San Francisco is world-renowned for its celebration of gay pride which makes this year's theme so fitting for the Art Commission's Art on Market Street Poster Series," said Acting Director of Cultural Affairs Rebekah Krell. "It is beautiful to see Sadie Barnette's poster series paying homage to this inclusive establishment. Her visuals represent the diversity of San Francisco's gay movement reflected through a personal lens."
For Barnette's posters, she mined the archival materials from the bar then created and photographed six tableaus that celebrate and honor the characters, artifacts, politics and style of the New Eagle Creek Saloon. Her posters are on display through April 30, 2020 along Market Street.
"In 1990 my father, Rodney Barnette, opened the New Eagle Creek Saloon to serve a multiracial gay community marginalized by the racist profiling practices of San Francisco's gay bar scene," said Sadie Barnette. "Located at 1884 Market Street, the bar was a space of celebration and resistance. Family and friends existed, loved, danced and struggled here. The bar closed in 1993, but the legacy of its spirit is embodied in its slogan: 'A friendly place with a funky bass, for every race.'"
Barnette's poster series is an extension of a larger project, which reimagined her father's bar and was installed at The LAB from May to June 2019. Following the installation, the bar was turned into a float for the 2019 Gay Pride Parade.

The San Francisco Arts Commission is the City agency that champions the arts as essential to daily life by investing in a vibrant arts community, enlivening the urban environment and shaping innovative cultural policy. Our programs include: Civic Art Collection, Civic Design Review, Community Investments, Public Art, SFAC Galleries and Street Artist Licensing. To learn more visit, sfartscommission.org.