City Teams Up with the San Francisco Ballet to Fight Graffiti Vandalism with Art
Funded by the City's StreetSmARTS program, Jason Jägel's new mural on the San Francisco Ballet's warehouse helps deter tagging with a colorful parade of urban characters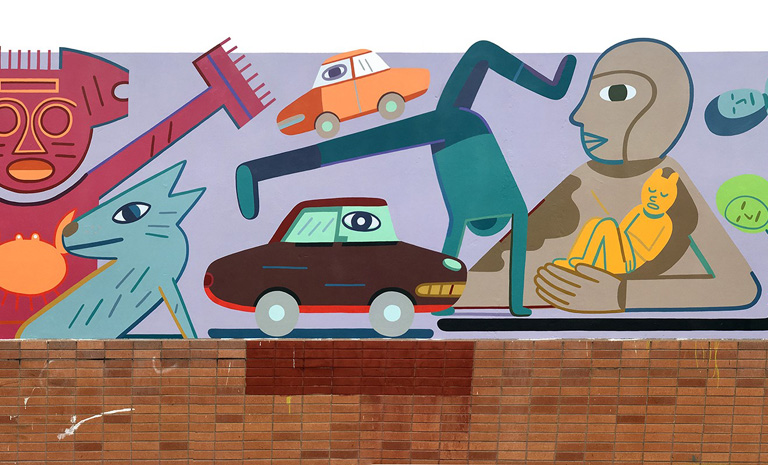 SAN FRANCISCO – A joint program of San Francisco Public Works and the Arts Commission, StreetSmARTS, pairs artists with private property owners who have received Notices of Violation for the removal of graffiti on their buildings. The San Francisco Ballet's warehouse, located at 2400 Cesar Chavez, was a frequent target until recently. Now its façade features an impressive mural by San Francisco-based artist Jason Jägel. What It Takes to Live pays homage to the ballet while also weaving in the diversity of movement found in the city and a nod to a neighborhood institution.
"We could not be more thrilled with the latest StreetSmARTS mural by Jason Jägel. His artwork totally transforms the block," says Director of Cultural Affairs Tom DeCaigny. "We are grateful to Public Works and San Francisco Ballet for engaging local artists in their efforts to keep the city beautiful."
Jägel prepared for this commission by attending the ballet with his family. The extended horizontal mural shows a cast of characters engaged in a variety of activities, from acrobatic dance to reading to thinking to riding a wheelie. A character inspired by Mayan pottery design is also featured, as well two animal-headed individuals engaged in an unexplained ritual activity that includes an iconic eye and an overflowing vessel. The crab t-shirt on the cat-man references The Old Clam House restaurant on Bayshore. The mural is rendered in Jägel's signature palette. According to the artist, "I want the color mixtures to have their own identity, just as I'm looking to develop characters with their own inner life."
The title of the piece is intended to imply that these individuals in the mural are participating in moments of personal well-being. A dog benevolently rest a hand on an under-table dog to suggest both self-care and giving support for others. That theme is repeated elsewhere in the mural, including a personified-car speeding across a dancers leg. "I want the mural to ask questions – including questions about taking care of others, to have a kind of tenderness," says Jägel. "When I mix an unusual color or color combination or frequently change the color of a line I want to feel a spark of imagination, where I'm trying to make sense of what I see or I'm imagining the life of the character. That spark is my sign. I hope that if it does that for me then it will for others as well."
"We are delighted that San Francisco Public Works and the Arts Commission have included our warehouse in such an incredible program, which simultaneously offers a practical solution and brings together the community," says SF Ballet Executive Director Glenn McCoy. "We support and welcome local artists in San Francisco, and it is absolutely wonderful that the wall on Cesar Chavez street now holds Jason Jägel's beautiful art work for everyone to see."
"We love this collaboration with the Arts Commission and the San Francisco Ballet because it promotes beauty and fights blight as we work to enhance and celebrate the neighborhood," said Public Works Director Mohammed Nuru. "As the City spends $20 million a year removing graffiti, the StreetSmARTS program provide a positive, creative solution to help us combat the problem."
Other Online Resources