Hayes Valley Says Goodbye to SQUARED
and Hello to Tara Mechani, a 17-foot Buddha
A closing party on May 18 will mark the successful run of Charles Gadeken's 50-foot LED light sculpture, SQUARED, which will be replaced by Dana Albany's Tara Mechani on June 4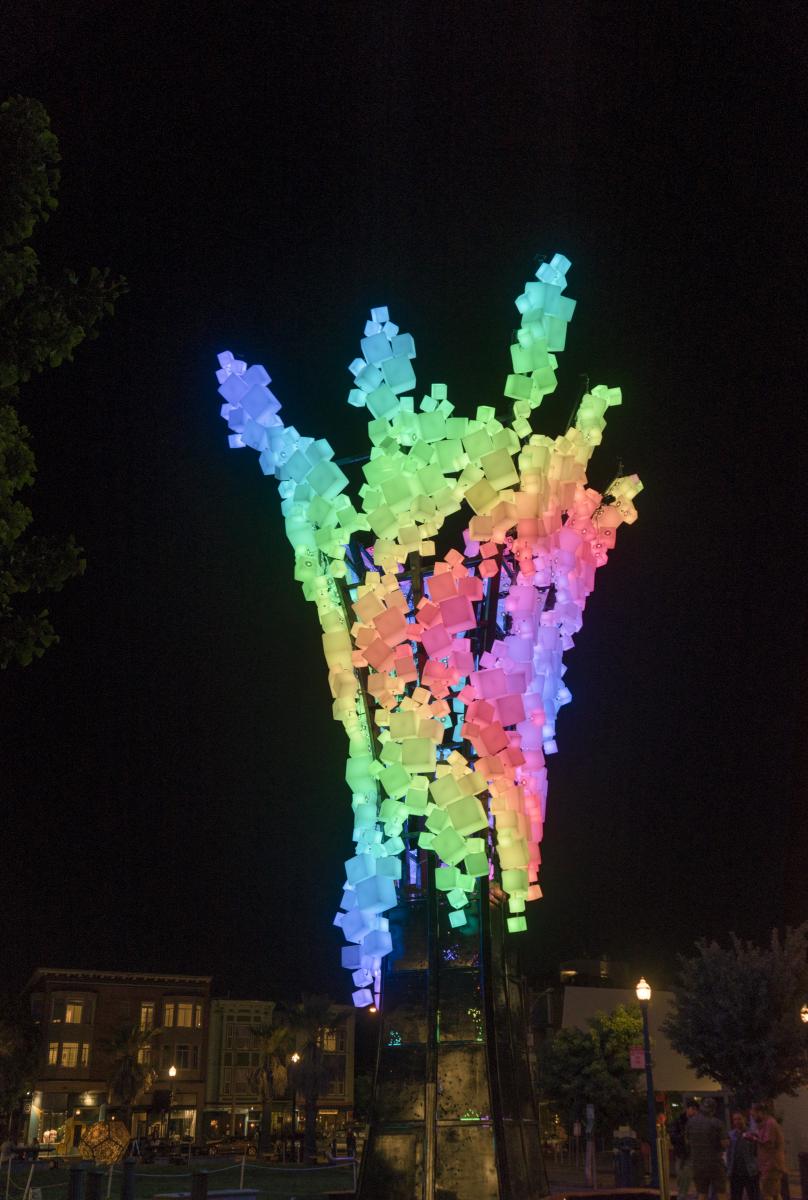 SAN FRANCISCO – On May 18, Hayes Valley will bid adieu to Charles Gageken's 50-foot LED light sculpture SQUARED and its mesmerizing nightly color light show, which has graced Patricia's Green since May 2018. Following on its heels, is a new installation, Tara Mechani, by local artist Dana Albany. Both projects were made possible by the San Francisco Arts Commission in partnership with the Recreation & Park Department and with funding from developer impact fees.
"We are grateful to the Market Octavia Citizens Advisory Committee (CAC) for being the only CAC in San Francisco to have advocated for the use of developer impact fees to provide for public art in their community. With this annual allocation of funding and thanks to the support of the Recreation and Park Department and the Hayes Valley community, the San Francisco Arts Commission has been able to bring an exciting rotation of new temporary public art to Patricia's Green for the past several years. The art program is a focal point for the community that brings an element of excitement to the neighborhood, day and night," says Director of Cultural Affairs Tom DeCaigny. "While we are sad to see SQUARED leave, we are thrilled to welcome Dana Albany's beautiful sculpture to this vibrant neighborhood."
Inspired by the robot Maria from the classic silent film Metropolis, Tara Mechani is a 17-foot high figurative sculpture that entwines aspects of the ancient female Buddha, Tara, with characteristics of a futuristic female robot. The sculpture is comprised of 80% recycled materials including machine parts and hardware collected from local San Francisco businesses. Inside the figure is a custom-built chandelier made out of a repurposed brass light fixture with arms that have been bent and reworked to extend around the sculpture's sides to form a ribcage. At night, the sculpture emanates a soft warm candelabra glow that is meant to represent "her heart and soul...shining from within".
According to the artist, "Playing with the contemporary fascination with technology, the artwork infuses the mechanical with the compassion and empathy associated with the ancient deity. Tara Mechani challenges us to embrace the future without losing sight of past beauty and ancient wisdom."
"Dana Albany's piece is a conversation starter, which makes it a perfect fit for Patricia's Green, a vibrant oasis where people from all backgrounds visit to enjoy beauty and community," said San Francisco Recreation and Park Department General Manager Phil Ginsburg. "Art in city parks not only improves our quality of life, it helps us connect with each other."
Tara Mechani will be on view in Patricia's Green (Hayes and Octavia) from June 4, 2019 to June 2020.
The San Francisco Arts Commission is the City agency that champions the arts as essential to daily life by investing in a vibrant arts community, enlivening the urban environment and shaping innovative cultural policy.
Other Online Resources