Justin Hall Highlights Pivotal Moments in San Francisco LGBTQ History
Wrapping Up the 2020 Art on Market Street Poster Series Celebrating 50 Years of LGBTQ Pride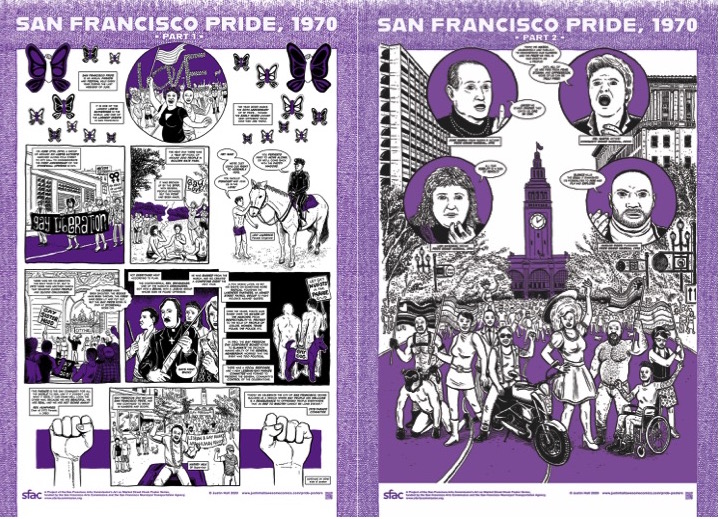 SAN FRANCISCO, December 24, 2020 – For its 2020 Art on Market Street Poster Series, the San Francisco Arts Commission (SFAC) invited artists to explore and call attention to the diverse people, places and events of San Francisco's queer culture. Justin Hall, the fourth and final artist in this year's program, presents his project "Marching Toward Pride," a series of comics posters depicting pivotal moments in San Francisco LGBTQ history during the 15 years leading up to (and including) the city's first Pride Parade.
In "Marching Toward Pride," Hall conducted extensive research for each poster, utilizing the resources of the GLBT Historical Society and the San Francisco Public Library's James C. Hormel LGBTQIA Center, as well as gathering eyewitness accounts of the events depicted, and consulting with LGBTQ historians such as Susan Stryker and Gayle Rubin. The series touches on important moments such as the founding of the first Lesbian civil rights organization in 1955 (the Daughters of Bilitis), to legendary performer José Sarria's campaign for San Francisco Supervisor in 1961 (making Sarria the first openly LGBTQ person to run for office in the U.S.), to the first Pride parade in 1970. Often incorporating direct quotes from historical sources, the six double-sided comic posters, each monochromatically colored to reference the six colors of the rainbow flag, tell a striking narrative of San Francisco's rich LGBTQ history.
"This project will illustrate how Stonewall and Pride were not the beginning of LGBTQ history, but rather rose out of a rich legacy of queer culture and resistance that was particularly profound in San Francisco," said Hall. "I wanted to put Pride in a broader context, and display that history in a way that is accessible and engaging."
"Justin Hall's series amplifies six important moments in San Francisco's LGBTQ history, and with the medium of comics, makes these histories compelling and relatable," said Acting Director of Cultural Affairs Denise Bradley-Tyson. "While these stories are just a few among countless other significant moments, Hall's work celebrates the decades of struggle, resistance, strength and triumph in the City's LGBTQ community."
The San Francisco Arts Commission is the City agency that champions the arts as essential to daily life by investing in a vibrant arts community, enlivening the urban environment and shaping innovative cultural policy. Our programs include: Civic Art Collection, Civic Design Review, Community Investments, Public Art, SFAC Galleries and Art Vendor Licensing. To learn more, visit sfartscommission.org.

To view images of all 12 "Marching Toward Pride" posters, please click here.