Kimberley Acebo Arteche Uplifts Filipina Women's Contributions to San Francisco's First Anti-Displacement Movement
Final 2021 Art on Market Street Poster Series continues theme of reconsidering, responding to and reimagining the idea of a public monument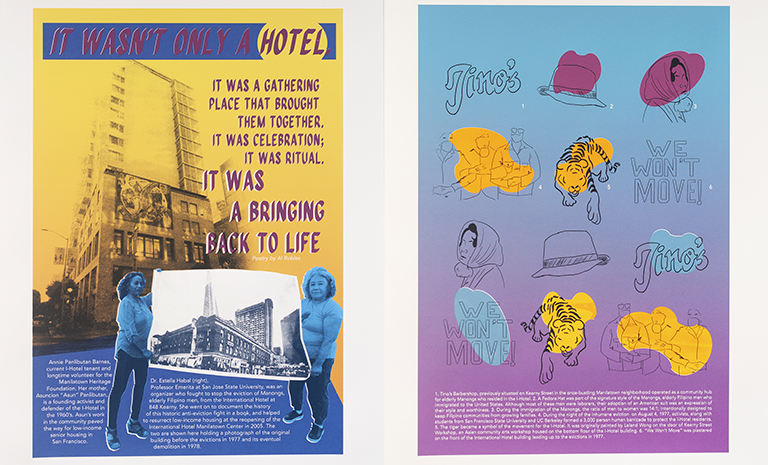 SAN FRANCISCO, October 14, 2021—For the third and final installment in the San Francisco Arts Commission's 2021 Art on Market Street Poster Series, Kimberley Acebo Arteche lifts up women's stories in It Wasn't Only a Hotel to pay homage to San Francisco's Manilatown and the International Hotel. These important sites in the local Filipinx community represent the city's first major struggle for housing rights and the fight against displacement. The series will be up from October 14 through the end of the year in 18 MUNI bus kiosks along Market Street between Steuart and Hyde streets.
"Today, the ten blocks of San Francisco's Manilatown hold little visible resemblance to its history," said Arteche. "The oral histories integrated into these images champion the powerful role that women played in the movement, like activist Asuncion Panlibuton, who went on to organize senior care homes and paved the way for more low-income senior housing, and Dr. Estella Habal who fought to rebuild the current I-Hotel Manilatown Center. These are the heroines of our community and help serve as keepers of our history."
The International Hotel was the last building on the last block of a once thriving Manilatown that spanned from Market to Jackson along Kearny Street. It not only housed some 150 elderly Filipino and Chinese immigrants, it was also a center for Asian American activism with an art workshop, a radical bookstore and three Asian newspapers. When tenants learned that the building would be demolished to become a parking garage, a multi-racial, multi-generational movement launched to preserve the housing site.
"Arteche beautifully integrates oral history text and images of Manilatown to highlight the lesser-told stories of women involved in the movement to save the I-Hotel," said Director of Cultural Affairs Ralph Remington. "These Filipino women are venerated for their activism and for being community culture bearers, paving the way that built a foundation for low-income housing in San Francisco."
The San Francisco Arts Commission is the City agency that champions the arts as essential to daily life by investing in a vibrant arts community, enlivening the urban environment and shaping innovative cultural policy. Our programs include: Civic Art Collection, Civic Design Review, Community Investments, Public Art, SFAC Galleries, and Art Vendor Licensing. To learn more, visit sfartscommission.org.
To view all seven images of Kimberley Acebo Arteche's It Wasn't Only a Hotel posters, please click here.