Mayor London Breed, Director of Cultural Affairs Tom DeCaigny and Cultural Leaders Applaud the Passage of Prop E
Proposition E establishes baseline funding tied to the growth of the hotel tax to support arts & culture in San Francisco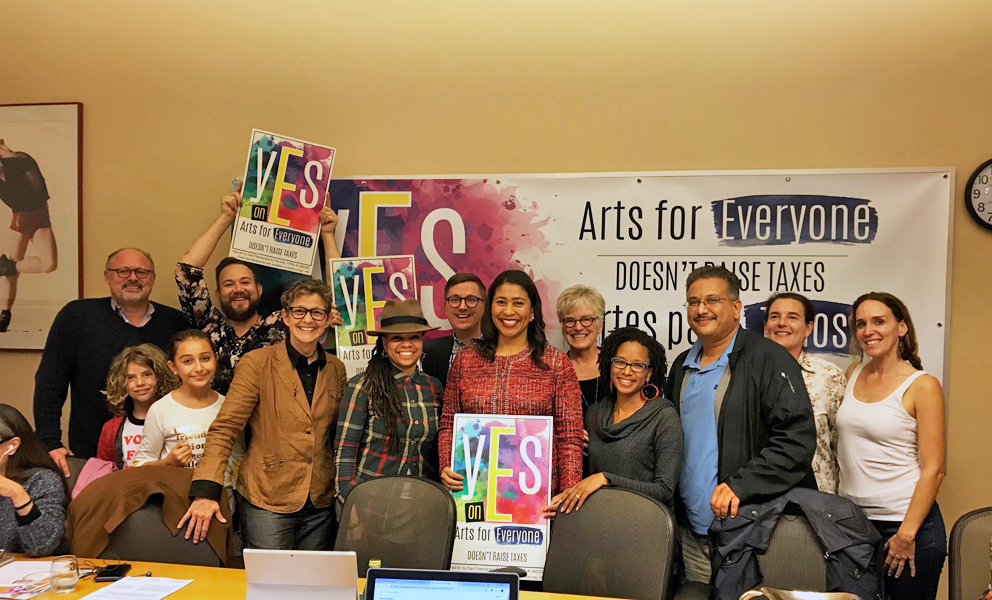 San Francisco, CA— Mayor London N. Breed, Director of Cultural Affairs Tom DeCaigny, and leaders from San Francisco's diverse arts and culture community celebrated the approval of Proposition E, the restoration of the historic hotel tax allocation for the arts.
"In addition to generating over a billion dollars for our local economy and supporting thousands of jobs, the arts and culture sector is essential to San Francisco's identity as a world-class city," says Mayor Breed. "Prop E was passed overwhelmingly by the voters and will help ensure that San Francisco can continue to thrive as a vibrant, diverse, and sustainable arts and culture community for generations to come."
Prop E allocates 1.5 percent of the existing 14 percent hotel tax for arts and cultural programming. Restoring the nexus between the hotel tax and the arts ensures that arts funding will increase along with the hotel tax, which is estimated by the City Controller's Office to grow by 3.4 percent per annum.
Prop E will increase investments in existing arts and cultural programs. It significantly augments the current budgets of the $5.3 million Cultural Equity Endowment, which supports small to mid-sized arts nonprofits and individual artists. Additionally, it will support the $3.2 million Cultural Center Fund, which provides operational support for the city's six cultural centers, four of which operate city-owned facilities. Both funds are administered by the San Francisco Arts Commission.
"The passage of Proposition E will restore the historic link of arts funding to a guaranteed revenue source— the Hotel Tax," said Kary Schulman, Director of Grants for the Arts, which provides operational support for arts nonprofits. "This restoration of San Francisco's economic investment in the arts, which enabled the city to become one of the nation's premiere arts destinations, will now allow it to resume its place as a national model for enlightened arts support."
Prop E also includes funding for new arts and culture priorities. A new $3 million fund will support the city's cultural districts, which currently include: SOMA Pilipinas, Calle 24, Japantown, Compton's Cafeteria Transgender Cultural District in the Tenderloin, SOMA's Leather District, and the Bayview African American Cultural District. Prop E also establishes a new $2.5 million Arts Impact Endowment Fund, which will address emerging needs in the arts and culture sector. The Arts Commission will undertake a community based needs assessment to determine how to maximize the impact of this new fund.
"I want to thank Mayor Breed, the Board of Supervisors, especially Supervisor Tang and Supervisor Peskin for co-sponsoring the legislation, and the entire arts community who worked tirelessly to champion this measure," says Director of Cultural Affairs Tom DeCaigny. "This funding increase will not only benefit local artists and arts and culture organizations and help them stay in the City, but also all San Franciscans by enhancing arts education programming for youth, preserving the diversity of our city by investing in our cultural districts and organizations rooted in communities of color, and supporting more opportunities for everyone to experience the exceptional cultural offerings of our City."
For more information on Prop E, visit ArtsforEveryoneSF.com.
Contact: Mayor's Office of Communications, 415-554-6131