New Long-term Parking Garage Gets Artful Treatment at SFO
San Francisco-based artist Johanna Grawunder transforms an ordinary parking garage into a work of art with her new site-specific artwork, Coding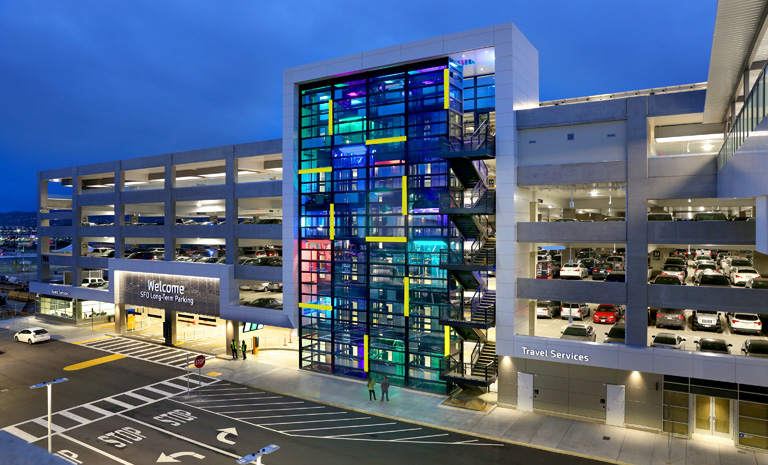 SAN FRANCISCO, May 20, 2019 – The San Francisco Arts Commission announces the completion of a new large-scale, site-specific public art project by Johanna Grawunder at San Francisco International Airport. Commissioned with 2-percent-for-art funds generated by the airport's new long term parking garage, Coding is an immersive installation comprised of light, glass and steel that transforms the structure's elevator tower into a dynamic focal point that can be experienced by day or night.
"San Francisco International Airport has established a reputation as not just a place where one catches a plane, but as a destination for some of the country's most ambitious public art installations," says Director of Cultural Affairs Tom DeCaigny. "With each new capital project, the San Francisco Arts Commission has the opportunity to innovate and stretch the imagination of what public art at an airport can be. We are incredibly grateful to the Airport for partnering with us as we continue to push artistic boundaries."
"For many travelers, our Long-Term Parking facility creates the first impression of SFO," said Airport Director Ivar C. Satero. "With this in mind, our newest parking structure incorporates the same attributes that are so important in our terminal facilities: innovative features, seamless access, sustainable design, and inspirational works of public art. Our thanks go out to Johanna Grawunder for creating this exciting work specifically for this space, and to the San Francisco Arts Commission for their continuing contribution to our Airport."
Capitalizing on the garage's inherent architecture, Coding incorporates different decorative elements, or "codes," each expressing a quality and experience of the elevator tower. Mirrored square and rectangle windows, suggesting dots and dashes, in the facade spell out "San Francisco" in Morse code. Ignition Yellow steel tags on the structural mullions point north, south, east, and west. Luminous ceilings and undercarriages color-change ever so slowly and become kinetic elements that amplify the up and down movement of elevator rides. The elevator cabins and shafts feature more than 60 strings of specialized lighting by Traxon Tehcnologies that enable an immersive experience through coordinated light shows that change over 24 hours.
"We are in the age of coding," Grawunder said. "San Francisco is a city of layers that can be discovered slowly in neighborhoods and microclimates, or breathtakingly all at once, such as from the Golden Gate Bridge. Each layer has its own complexities and 'codes' to be cracked. "Coding is an immersive environment installation defined through layers of codes — decorative elements that each express a specific quality and experience of the elevator tower at the long-term parking garage. These code-layers are dynamic day and night through the use of materials that respond to reflection, luminosity and programmed color-changing light."
ARTIST BIO
Designer/artist Johanna Grawunder works on a broad range of projects, from large-scale public lighting and color installations, architectural interventions and interiors, to limited-edition furniture and light collections. Recent projects a new Light Art collection for Carpenters Workshop Gallery and the exhibition "Alone Together" for Assab One in Milan.
Trained as an architect, she was drawn to the medium of light early on and has tried to incorporate architectural principles and scale, non-precious building materials and high technology light research into her designs.
Her work is included in many museum permanent collections, including the High Museum Atlanta, LACMA, CNAP, SFMOMA, The Museum of Fine Arts, Houston, Art Institute Chicago, Denver Art Museum and Musée des Arts Décoratifs Paris.
With a degree in Architecture from California Polytechnic University San Luis Obispo, she studied and worked with Gianni Pettena and Cristiano Toraldo di Francia of Superstudio in Florence (1984-1985) then moved to Milan to work with Sottsass Associati (1985-2001), becoming a partner in 1989. At Sottsass Associati she was involved primarily with architecture and interiors, co-designing with Ettore Sottsass, many of the firm's most prestigious projects. In 2001 she opened her own design studio in San Francisco and Milan.
Other Online Resources