New Public Art for the Office of the Chief Medical Examiner
New $65 Million Office of the Chief Medical Examiner Facility Brings State-Of-The-Art Improvements to a Critical First-Responder Branch of San Francisco's Justice System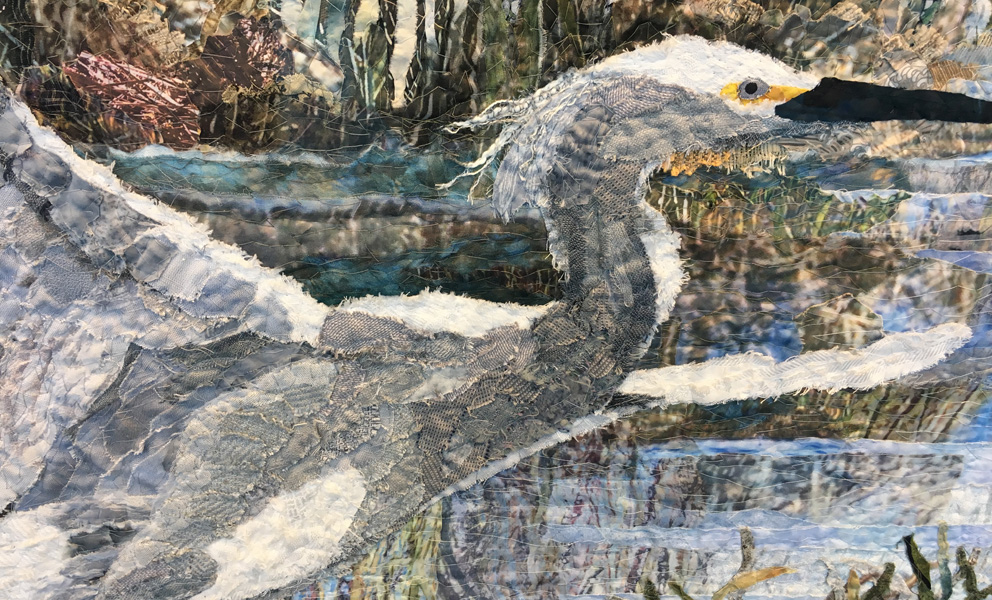 Contact: City Administrator's Office, (415) 554-6272

San Francisco, CA – The new Office of the Chief Medical Examiner building, designed for resiliency to serve the growing needs of a 21st-century city, was celebrated today at a ribbon-cutting ceremony that drew City leaders and community representatives.
Located at 1 Newhall St. in the Bayview-Hunters Point neighborhood, the technologically advanced, 46,000-square-foot Office of the Chief Medical Examiner building is on track to become one of the nation's leading facilities of its kind, equipped with a state-of-the-art forensic toxicology laboratory, modern autopsy suite and work stations for investigators and administration.
Additionally, the $65 million facility's generous use of natural light paired with original artwork by local artists makes it a more welcoming environment for loved ones and friends visiting the office to identify decedents and speak with investigators.
The structurally sound and secure building is expected to remain fully operational in the event of a major earthquake – a marked improvement from the Medical Examiner's previous cramped, outdated and seismically vulnerable offices in the 1950s-era Hall of Justice at 850 Bryant St.
"This new building showcases San Francisco's commitment to investing in capital improvements that safeguard our diverse neighborhoods and communities," said Mayor Edwin M. Lee. "With this building we are bolstering our resiliency and improving emergency response."
The Medical Examiner coordinates the investigation and certification for all manners of deaths in San Francisco – natural, homicide, suicide, and accident -- and deaths of persons who cannot immediately be identified. More than 1,200 deaths are investigated each year. In addition, the Forensic Laboratory of the Office of the Chief Medical Examiner performs drug and poison analysis, including cases of driving under the influence of drugs and alcohol and sexual assaults.
"This modern facility allows us to more effectively and efficiently carry out our mandated duties as an essential first responder and critical partner in San Francisco's justice system," said Chief Medical Examiner Dr. Michael Hunter. "With this game-changing building, we now can take full advantage of the technological advances and best practices in our field to best serve our residents."
This transformative project was funded by the $400 million, voter-approved Earthquake Safety and Emergency Response Bond, which is paying for improvements to facilities that allow San Francisco's first responders to provide 24/7 service to neighborhoods and stay up and running after a major disaster.
In collaboration with the CityBuild program led by the City's Office of Economic and Workforce Development, the project exceeded local hiring expectations: San Francisco residents accounted for 37 percent of the construction crew, surpassing the original goal of 30 percent.
"Close to 170,000 working hours have gone into constructing the new Office of the Chief Medical Examiner, and more than one-third of these hours came from local residents. That's a number we all can be proud of," said City Administrator Naomi Kelly. "And, as important, these workers built a facility critical to improving San Francisco's first-responder capabilities."
San Francisco Public Works managed the design and construction of the project, which was delivered on time and on budget, significantly exceeding Local Business Enterprise hiring goals. The team also included Clark Construction and KMD Architects. The facilities are expected to receive LEED Gold certification for its sustainable design.
Additionally, Public Works Director Mohammed Nuru said, "Not a single injury occurred over the course of the 2-year construction period. We are delighted to work with talented crews who share a mutual commitment towards minimizing risks as San Francisco continues to make great progress improving our essential infrastructure."
"Clark Construction is honored to collaborate and partner with Public Works in successfully delivering a vital facility that will enable the Chief Medical Examiner to provide critical services to the residents of San Francisco," said Steve Dell'Orto, Senior Vice President and Regional Acquisitions Officer for Clark Construction, "And we are equally proud to work alongside Bayview small businesses and residents in building a state of the art facility located in their neighborhood."
With 2 percent of the project budget designated for public art, the San Francisco Arts Commission engaged several artists to develop site-specific works for the facility.
"This project was unique from the outset," said Director of Cultural Affairs Tom DeCaigny. "We recognized the sensitive nature of the site and took great care to work with the Chief Medical Examiner's Office staff on the artist selection to ensure that the works we commissioned would contribute to a comforting and serene environment for visitors and staff."
Merle Axelrad, a celebrated textile artist, created a fabric collage inspired by the salt marshes and wildlife of India Basin for the entry lobby. Created with thousands of pieces of cloth, the collage includes remnants of a jacket worn by Dr. Boyd G. Stephens, who served as San Francisco's Chief Medical Examiner for more than 30 years. Additional artwork includes a large-scale sculpture by Richard Deutsch, which will be installed later this month; and a collection of two-dimensional work featuring regional landscapes by local artists Suzy Barnard, Alan Mazzetti, Donna J. Wan, Elaine Coombs, Beryl Landau, Stanley Goldstein and Wendell Shin.
"Moving the facility to Bayview-Hunters Point means a benefit to the neighborhood," said Supervisor Malia Cohen, who represents the District. "With our commitment to community partnerships, we made sure this project provides local jobs and workforce development opportunities for community members in the immediate area."
The Earthquake Safety and Emergency Response Bond program is a component of the City's Ten-Year Capital Plan – strategic and fiscally responsible capital planning blueprint that prioritizes key capital projects that impact public safety. Approved by voters in 2014, the bond brings seismically safe, upgraded public safety facilities to San Francisco. Upcoming projects include improving all 10 district police stations, building and renovating neighborhood firehouses, continuing repairs to the emergency firefighting water system and constructing a new facility for the City's motorcycle police and Forensic Services.