Redwoods on Mount Tamalpais Greet Travelers at San Francisco International Airport's International Terminal
New large-scale mural by San Francisco-based artist Alice Shaw celebrates California's natural beauty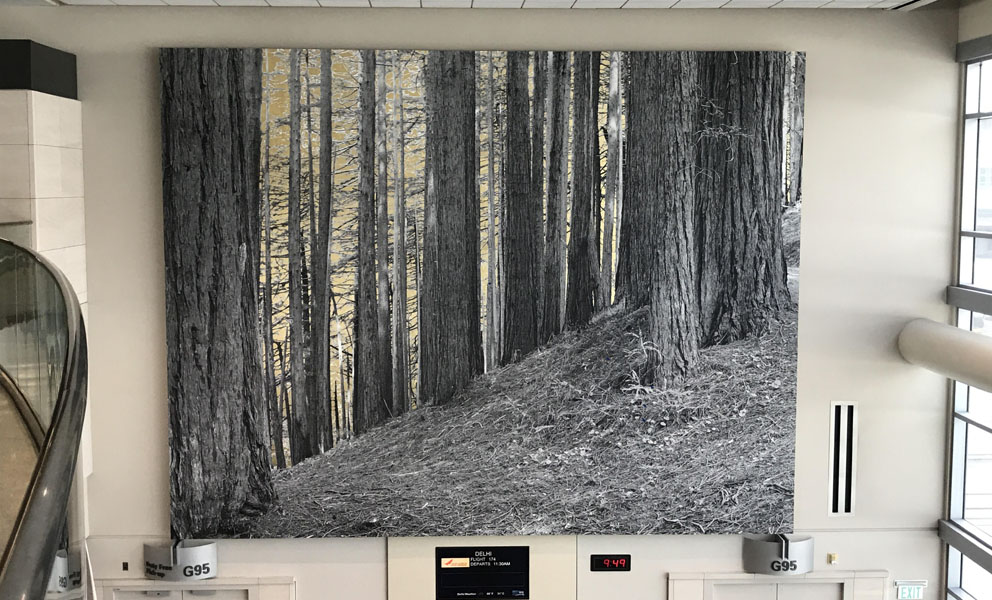 SAN FRANCISCO – Visitors to San Francisco International Airport's (SFO) International Terminal, Gate G95 now enjoy a view of redwoods captured along the famed Dipsea Trail on Mount Tamalpais in Marin County. For locals, this beloved hiking trail evokes pride in California's rich and diverse natural beauty. For visitors, it is meant to signify the tip of the iceberg when it comes to exploring all that the Bay Area has to offer. The new 20 x 26-foot mural, titled No Other Lands Their Glory Know, by San Francisco-based artist Alice Shaw was commissioned by the San Francisco Arts Commission for SFO, which is home to one of the world's premier collections of public art.
"My intention for this mural was to bring some of the beauty and spectacle of the local Northern California environment into the interior of the airport terminal. I would like to provide visitors with the feeling of what it's like to gaze out at a local vista and pique their curiosity for a return visit to the area," says Shaw. "For locals, I want the work to help them recall their own nostalgic experience of walking through redwood forests."
The mural began with a black and white photograph, which was enlarged and printed onto gesso coated 4 x 5-foot ½-inch panels of ApplePly plywood. The mural is comprised of 25 panels in total. Twenty-two karat gold leaf was added to the background to "simulate the setting sun in the Golden State." According to the artist, "The application of this rarified material helps create a feeling of permanence and celebration of the natural treasures to be found within the local region." The title of the work is borrowed from a poem by Joseph B. Strauss entitled, The Redwoods.
"In International Boarding Area A, Alice Shaw joins the company of other influential Bay Area artists including, Rigo 23, Squeak Carnwath, Clare Rojas, Rupert Garcia, Carmen Lomas Garza. Also included in the Airport's collection is Shaw's own father, the sculptor Richard Shaw. We are proud to add to this rich history with every new acquisition," says Director of the Public Art Program and Civic Art Collection Susan Pontious.
When the International Terminal Boarding Area was built in 2000, the Arts Commission only commissioned works for half of the available walls. In recent years, the Agency has added an installation by Clare Rojas and will debut new work by Kota Ezawa and Leah Rosenberg in the coming months.
"Public artwork is vital to our delivery of an exceptional guest experience at SFO," said Airport Director Ivar C. Satero. "This latest example from Alice Shaw provides a uniquely Bay Area sense of place to our International Terminal, creating a welcoming environment for travelers from around the world. We thank Alice Shaw and the San Francisco Arts Commission for their contribution to our airport."
Other Online Resources