Summer of Love Trading Cards Hit Market Street
Timothy Leary, Allen Ginsberg, Janis Joplin and Joan Didion are just a few of the Summer of Love icons featured in Kate Haug's vibrant Art on Market Street Poster Series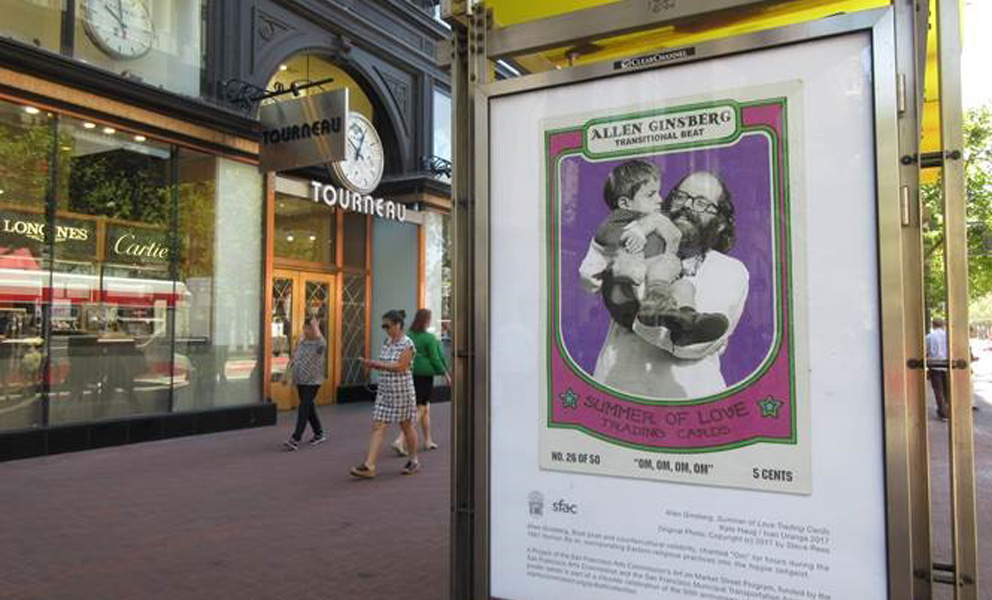 SAN FRANCISCO, June 19, 2017– Long before Instagram and SnapChat made pocket-sized images of your favorite celebrity or sports hero a hot commodity, there was the trading card. Local artist Kate Haug was inspired by this vintage collector's item for her Summer of Love-themed Art on Market Street Poster Series, which features the all-stars of 1967s counterculture and political scene. Allen Ginsberg, Bobby Seale, Janis Joplin, and yes, even Ronald Reagan, are just a few of the era's icons that will appear in the bus kiosks between the Embarcadero and 8th Street through August 31 2017.

"The San Francisco Arts Commission is proud to be joining cultural organizations from all around the Bay Area in celebrating the 50th anniversary of the Summer of Love," said Director of Cultural Affairs Tom DeCaigny, "Kate Haug's vibrant poster series highlights the diverse cast of characters who left their mark on 1967. We hope the series will inspire viewers to engage in a deeper dive into the history of the Summer of Love and its legacy of political activism, acceptance and above all, love."
From researching photo archives and the popular press, Haug came across a diverse representation of figures central to the San Francisco scene. Many people featured on the cards such as Joan Baez, Jerry Garcia, Sly Stone, Sonny Barger, Bobby Seale, Lenore Kandel, Allen Ginsberg, and Janis Joplin lived in the Bay Area, locating San Francisco as central to this historical moment. Card No. 29, Reverend Cecil Williams and Janice Mirikitani, celebrates the couple's on-going social justice and humanitarian work at Glide, which was ignited in 1967 when Williams removed the cross from Glide's sanctuary stating, "We all must be the cross." Haug included Ronald Reagan as his form of conservative politics has had lasting impact on American history.
Haug collaborated with Ivan Uranga to produce the poster's bold graphic style. Drawing from the vernacular of trading card, black and white photographs of each personage is set against a vibrant background, reminiscent of the era's psychedelic rock posters. Each figure is given a title that reflects his/her role in the Summer of Love. For example, Leary appears under the title "Psychedelic Evangelist" along with his famous call from the Human Be-In, the prelude to the Summer of Love, to "Turn on, tune in, and drop out." The use of the trading card format suggests that these diverse legacies have been commodified, gaining and losing value through the passage of time.
The series includes other details that are the artist's own invention. For example, a price is included on the bottom of each card, which was not standard trading card practice. She also uses the figures' birthdates for their serial number. For instance, Allen Ginsberg is number 26, because he was born in 1926. An exception is Janis Joplin; she is no. 27, the age at which she died.
According to Haug, "My hope for these cards is that they are easily accessible, aesthetically compelling and able to visually compete on Market Street with ads and other elements within the urban landscape. These cards are invitations to think about these people, the ideas, which they represented, and how we currently experience their influence. Ultimately, I'd hope that viewers might ask: what role did the Summer of Love have in shaping our world today?"
The next and last Summer of Love-themed Market Street poster series will feature new work by Sarah Hotchkiss who will examine the "diverse Bay Area political, cultural and social scenes of 1967" through local mainstream and underground media.
For more information about the Summer of Love anniversary celebration visit Summerof.Love or SummerofLove2017.com.