Transcending Physicality: The Essence of Place
New group exhibition featuring the works of fourteen artists coming soon to the Arts Commission Main Gallery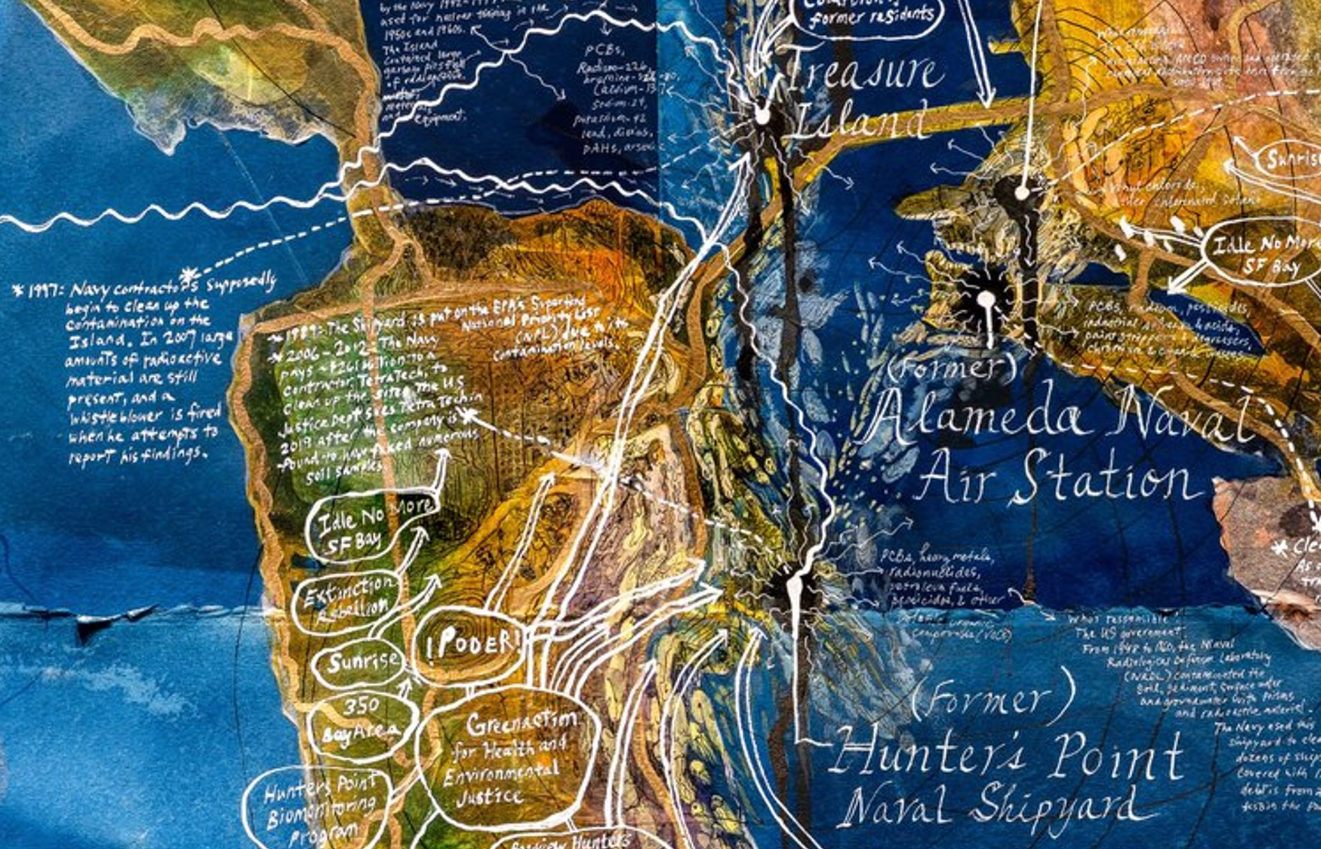 SAN FRANCISCO, September 22, 2023 —The San Francisco Arts Commission (SFAC) Main Gallery is thrilled to present Transcending Physicality: The Essence of Place, a group exhibition, curated by Bay Area-based artist and educator Minoosh Zomorodinia, that explores the complicated concept of "place" and the interplay of relationships and interactions that shape and define places.
Transcending Physicality: The Essence of Place opens on October 13, 2023 at the SFAC Main Gallery in the War Memorial Veterans Building and will be on view through December 16, 2023.
"San Francisco is a unique place that has a powerful connection with many individuals, including many artists and activists, who call the City home. Our connection to a place is tied to so much more than the physical space, but also to memory, events, and other associations that connect us," said Ralph Remington, Director of Cultural Affairs. "The Arts Commission is thrilled to work with this amazing and talented group of artists to explore the concept of place in both the Bay Area and beyond."
Transcending Physicality recognizes that place extends beyond mere physicality, encompassing narratives, histories, and emotions. Through the work of fourteen artists, the exhibition aims to illustrate the multifaceted dimensions that contribute to the essence of a place.
"I wanted to create an exhibition to explore and interpret the concept of place from the viewpoint of artists from different backgrounds," states exhibition curator Minoosh Zomorodinia. "My aim is to spark meaningful conversations about the significance of spaces in shaping cultures, fostering connections, and resonating with personal and collective experiences."
"The SFAC galleries is thrilled to present Transcending Physicality: The Essence of Place, an exhibition that encourages us all to rethink our understanding of place," said Carolina Aranibar-Fernandez, Director of Galleries and Public Programs. "This exhibition will provide fourteen artists with a platform to share their unique perspectives through various mediums, including installation art, photography, video, and sculpture."
The exhibition will feature works by: Alex Arzt, Ebti, S. Emsaki, Kiana Honarmand, Masha Kechaeva, Carolina Maki Kitagawa Frisby, Nazafarin Lotfi, Lorena Molina, yétúndé olagbaju, Kelley O'Leary, Tiare Ribeaux and Qianqian Ye, Sanaz Safanasab, Supermrin and Jessica Fertonani Cooke, and Connie Zheng.
San Francisco and Cairo-based artist Ebti will exhibit a new iteration of her installation, Windows of Sehnsucht - Studio 14 windows, 2023. The work was conceived during a fellowship at Headlands Center for the Arts in Sausalito and features photographs of a window in the artist's studio looking out at the landscape. Viewing these as portals, Ebti's installation allows for a connection to a different place and time.
Placed on the floor in the gallery will be Corriendo encima de memorias, Running above memories, 2022 by Mexico City-based artist Carolina Maki Kitagawa Frisby. The ceramic tile installation acts as a recording of a marathon via the asphalt and roads traversed. Imprinted in the tiles are cement cracks, tree roots, potholes, animal tracks, and other markers that dot the floor of our surroundings.
In Clouds of the American West, 2022, Northern California-based artist Kelley O'Leary displays artifacts they found while visiting date centers in Oregon, Nevada, California, Utah, and Arizona. O'Leary is interested in how these zones of machine landscapes invisibly run much of the modern world. The installation features the detritus that surrounds these centers as well as photographs, depicting the very real landscape that also house clouds of data.

Exhibition Details
Transcending Physicality: The Essence of Place
October 13 – December 16, 2023
SFAC Main Gallery, War Memorial Veterans Building
401 Van Ness Avenue, Suite 126, San Francisco, CA 94102
Wednesday – Saturday, noon – 5 p.m.
Free and open to the public
Public Reception Details
Friday, October 13, 6 – 8 p.m.
SFAC Main Gallery, War Memorial Veterans Building
401 Van Ness Avenue, Suite 126, San Francisco, CA 94102
No reservation required. Free and open to the public
Public Programming Details
All programs take place or begin at the SFAC Main Gallery and are free and open to the public. For more details, visit www.sfartscommission.org
Palm Assembly: INVASIVE FANTASY
Saturday, October 21 AND November 18 | 1:00-4:00 pm
Palm Assembly artists Sylvia Hughes-Gonzales and Ebti bring their participatory project INVASIVE FANTASY to the SFAC. Explore your own connection to the palm tree in this immersive installation and photo booth.
Transcending Physicality Artist Talk
Wednesday, October 25 | 6:30-8:30 pm
Join exhibition artists for a moderated conversation exploring the themes behind their work and the exhibition.
The Civic Center: Hoopoe's Story of Unity
Saturday, December 2 | 4:00-6:00 pm
Inspired by 12th century Persian poet Farid Attar's the Conference of The Birds, artist Golbanou Moghaddas tells a new story of the Civic Center through the book's main character, a bird named Hoopoe. Participants will be led on a walk through the Civic Center as the story is told.
###
About the San Francisco Arts Commission
The San Francisco Arts Commission is the City agency that champions the arts as essential to daily life by investing in a vibrant arts community, enlivening the urban environment and shaping innovative cultural policy. Our programs include: Civic Art Collection, Civic Design Review, Community Investments, Public Art, SFAC Galleries, and Art Vendor Licensing. To learn more, visit sfartscommission.org.
Other Online Resources