World Premiere of New Work by Emmy-Nominated Filmmaker James Q. Chan at San Francisco Main Library
THE MAIN°, a virtual 360-degree video series about San Francisco Public Library, takes viewers beyond the bookshelves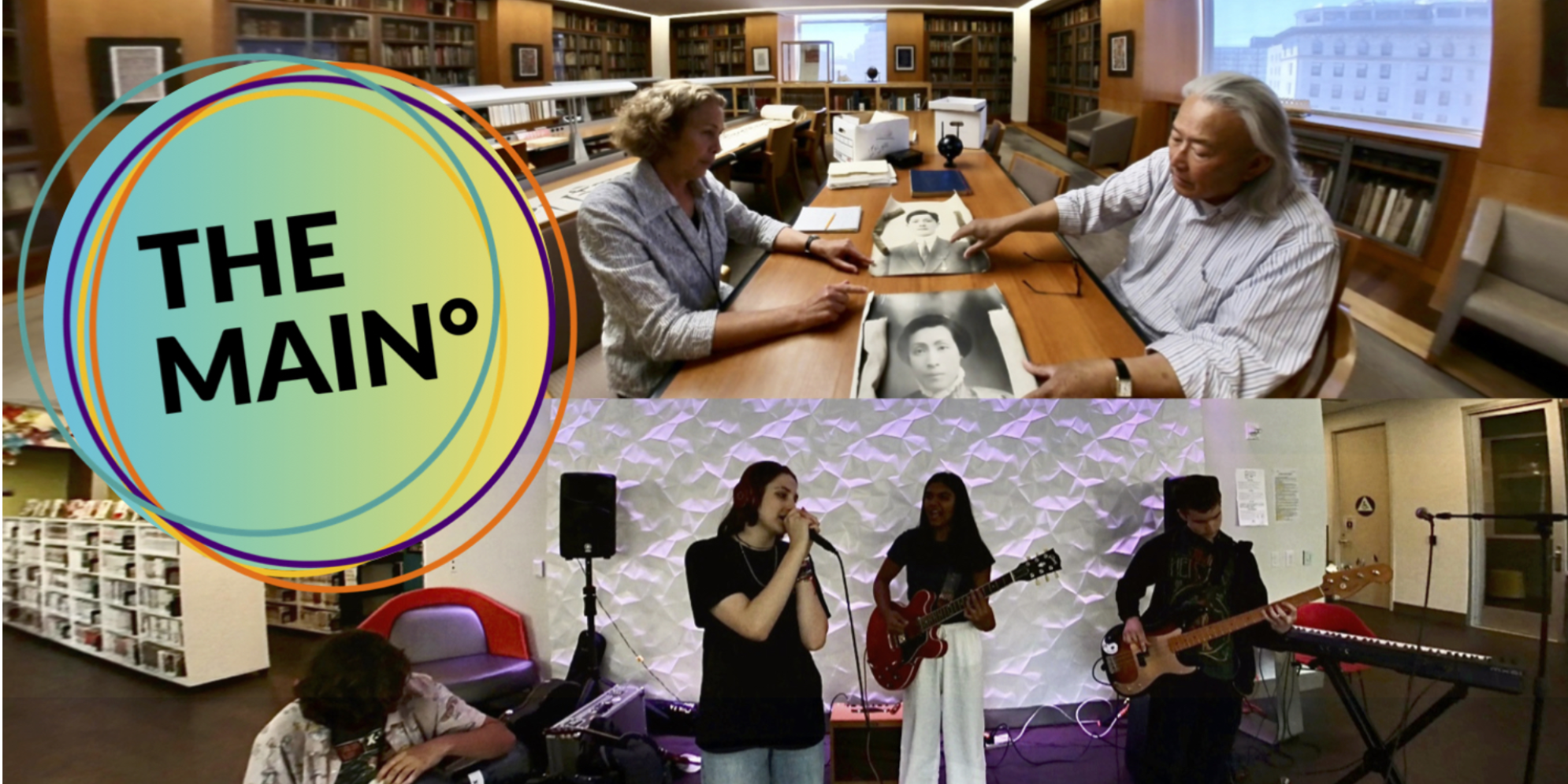 SAN FRANCISCO, October 4, 2023 - San Francisco Main Library is proud to announce the world premiere of THE MAIN°, a new work by Emmy-nominated, San Francisco-based filmmaker James Q. Chan. The free interactive screening takes place on October 19, 5 p.m. at the Main Library, located at 100 Larkin St.
In 2022, Chan was selected as one of four inaugural artists-in-residence at the Library through the San Francisco Arts Commission's Artist-in-Residence program. Launched in 2015, the program builds partnerships with City Departments in order to strengthen the value of artists participating in and responding to the advancement of civic dialogue. Each artist was required to spend ten weeks in residence conducting research and embedding into the fabric of day-to-day activities at SFPL, both behind the scenes and interfacing with the public. THE MAIN° is the culmination of Chan's residency experience and explores the Library's role as a community hub and cultural center through the perspective of Library staff and patrons.
According to Chan, "As a child who practically grew up in the San Francisco Main Library, this residency represents a full circle return to one of the most influential living rooms of my formative years."
"We are thrilled to host the world premiere of THE MAIN° and to showcase the incredible work of James Q. Chan," said City Librarian Michael Lambert. "This project is a love letter to San Francisco Public Library. We hope that this screening will inspire viewers to see the Library in a new light and to appreciate the vital role that it plays in our community. We are grateful to the artist and the Arts Commission for their partnership and for creating such a beautiful and thought-provoking work."
"It's exciting to see the unique perspectives and inspired works created by each artist at the conclusion of their ten-week residency as part of the Artists-in-Residence program," said Director of Cultural Affairs Ralph Remington. "James Q. Chan's THE MAIN° provides audiences with an opportunity to truly immerse themselves into and experience the untold stories of San Francisco's Public Library system."
Chan is an Emmy-nominated producer and director based in San Francisco. Recent producing credits include Plague at the Golden Gate (PBS/American Experience); Chinatown Rising (PBS/America ReFramed). Recent directing projects include Bloodline (Emmy®Nominee, 2022); large- format 360° CIRCLE VISION films for Disney Studios; and launching the doc series Chinatown Shorts. His film Forever, Chinatown (Emmy® Nominee, 2018) received multiple festival awards, screened globally with American Film Showcase where James serves as a filmmaker envoy. He received a Certificate of Honor from the San Francisco Board of Supervisors for his work highlighting stories from the AAPI community.
His sensibilities throughout his projects are shaped by his refugee and working-class background, love for nature shows, and memories of his mother's cooking. He is currently adapting Laurence Yep's acclaimed Child of the Owl book into a narrative series set in San Francisco's Chinatown. Chan was a 2021 YBCA100 Honoree and a member of the Directors Guild of America.
The interactive screening of THE MAIN° will include opportunities to engage with Chan about his project. The event is free and open to the public, and no registration is required. For more information visit the Library's website at sfpl.org.
###
About San Francisco Public Library
San Francisco Public Library is dedicated to free and equal access to information, knowledge, independent learning and the joys of reading for our diverse community. The library system is made up of 27 neighborhood branches, the San Francisco Main Library at Civic Center and four bookmobiles.
About the San Francisco Arts Commission
The San Francisco Arts Commission is the City agency that champions the arts as essential to daily life by investing in a vibrant arts community, enlivening the urban environment and shaping innovative cultural policy. Our programs include: Civic Art Collection, Civic Design Review, Community Investments, Public Art, SFAC Galleries, and Art Vendor Licensing. To learn more, visit sfartscommission.org. 
Other Online Resources