Monuments and Memorials in the Civic Art Collection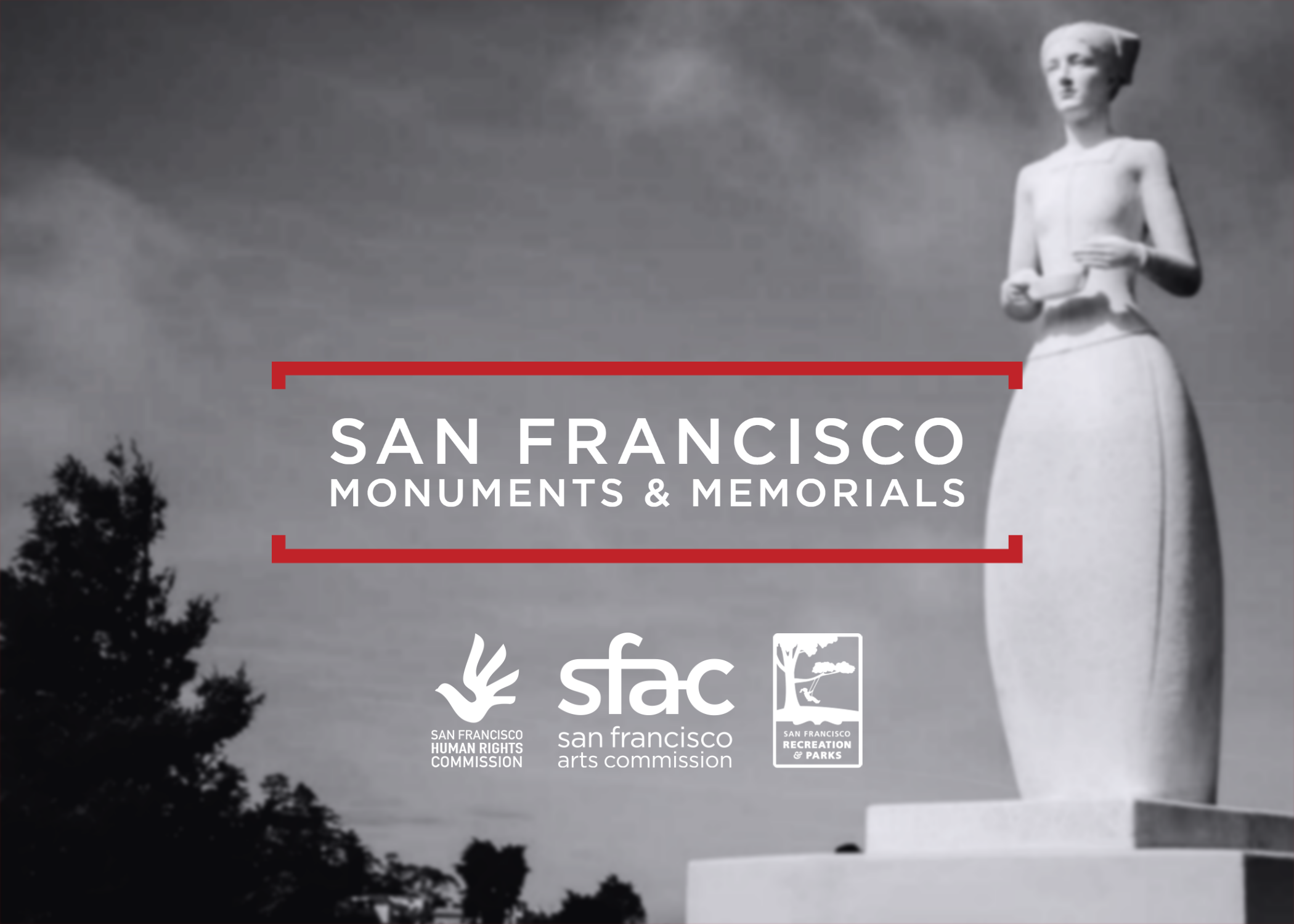 View The Monuments and Memorials Advisory Committee Final Report
What do you think about the monuments and memorials in San Francisco's Civic Art Collection? Share your feedback!
Send your comments via email: monumentsandmemorials@sfgov.org
Leave a voicemail by calling: 415-252-2214
MMAC Meetings
Scheduled MMAC meetings have concluded. Recordings of past meetings are available to view below.
Past Meetings:
MMAC Meeting 1: Committee Orientation: View a recording of the meeting here.
MMAC Meeting 2: Thursday, February 17, 2022: View a recording of the meeting here.
MMAC meeting: Monday, March 28, 2022 at 3:30 p.m. PT (Rescheduled)
MMAC meeting #3: Wednesday, April 27, 2022: View a recording of the meeting here.
MMAC meeting #4: Tuesday, June 14, 2022: View a recording of the meeting here.
MMAC meeting #5: Tuesday, August 30, 2022: View a recording of the meeting here.
MMAC meeting #6; Thursday, September 29, 2022: View a recording of the meeting here.
Monuments & Memorials Public Feedback Session #1, Saturday, October 15, 2022: View a recording of the meeting here.
Monuments & Memorials Public Feedback Session #2, Wednesday, October 19, 2022: View a recording of the meeting here.
MMAC meeting #7; Monday, November 14, 2022: View a recording of the meeting here.
Click here to view a full size version of the Monuments and Memorials map. View the additional information about San Francisco's Monuments and Memorials in the Civic Art Collection here.
The MMAC is working closely with a consultant team from Forecast to support the work of the Committee. Forecast will facilitate the MMAC, convene community meetings and deliver the findings, recommendations and guidelines the committee decides upon.
About the Monuments and memorials advisory committee
The Monuments and Memorials Advisory Committee (MMAC), a body that will host hearings with community members and establish the criteria and guidelines by which to determine the future of historic monuments in the City's art collection. This initiative is a partnership between the San Francisco Arts Commission (SFAC), the Human Rights Commission (HRC) and the Recreation and Parks Department (RECPARK).
The MMAC's charge is to examine the history of monuments in the public realm in San Francisco, the individuals, events and ideals they venerate, and how the narratives associated with these monuments align—or do not—with San Francisco's values today. This advisory body will focus their research on the monuments and memorials within the Civic Art Collection.
The San Francisco Arts Commission, the Human Rights Commission, and San Francisco Recreation and Parks Department are pleased to announce the members of the Monuments and Memorials Advisory Committee (MMAC).
Monuments and Memorials Advisory Committee Members
Ralph Remington has extensive professional experience in arts administration and government, and has experience as a director, actor, essayist, playwright and screenwriter. Prior to joining the City and County of San Francisco, he served as the Deputy Director for Arts and Culture for the City of Tempe, Arizona. In that role, he was responsible for Tempe Center for the Arts' comprehensive performance and visual art programming, as well as overseeing public art, the Tempe History Museum, arts engagement and municipal arts granting. He previously served as the former Western Regional Director and Assistant Executive Director for Actors Equity Association in Los Angeles.

Prior to that, he was Director of Theater and Musical Theater at the National Endowment for the Arts (NEA) in Washington, D.C. In 2010, he received the NEA Chairman's Distinguished Service Award. Prior to working at the NEA, Remington was a City Council member for the City of Minneapolis. He is a former Guthrie Theater Acting Company member, and is the founding Producing Artistic Director of award-winning Pillsbury House Theatre in South Minneapolis. Remington has a Bachelor of Fine Arts in Drama from Howard University.
Sheryl Evans Davis is the Executive Director of the San Francisco Human Rights Commission (HRC). Director Davis previously served as Commissioner between 2011 and 2016, including a tenure as Vice Chair of the Commission.

Prior to joining the HRC, Director Davis was Executive Director of Collective Impact, a community-based organization in the Western Addition neighborhood of San Francisco. As Executive Director, she oversaw Mo'MAGIC, Magic Zone, and the Ella Hill Hutch Community Center. Mo'MAGIC, a collaborative of non-profit organizations, addresses challenges facing low-income children, youth and families in the areas of economic development, community health, and violence prevention. Magic Zone provides education and wraparound services to K-12 students and transitional aged youth. The Ella Hill Hutch Community Center provides community-building services and workforce development opportunities to neighborhood residents. During her tenure at Collective Impact, Director Davis forged private and public sector partnerships to provide critical health and social services to historically underserved communities across San Francisco.

Director Davis has also served on the SFPD Fair & Impartial Policing and Community Policing Advisory Committees, Fillmore Community Benefits District, and Redevelopment Agency's Western Addition Citizen Advisory Committee. She holds a BA degree from San Francisco State University and Master's in Public Administration from the University of San Francisco.
Phil Ginsburg is the general manager of the San Francisco Recreation and Park Department. With more than 4,100 acres and over 220 parks under its jurisdiction, the Recreation and Park Department stewards some of the most spectacular public spaces in the world, including Golden Gate Park, Coit Tower and the Palace of Fine Arts. Under Ginsburg's leadership, San Francisco became the first City in the United States where 100% of its residents live within a ten-minute walk of a park. Ginsburg has led his organization through transformational improvements to the public realm and he has made equity and increasing access to public recreation and to nature, the department's primary objective. Ginsburg has built a financially sustainable model for San Francisco's park system through ballot advocacy, the strategic use of public-private partnerships and philanthropy, creative revenue strategies, technology and administrative efficiencies. During his tenure, San Francisco has been consistently ranked one of the nation's top five park systems. In 2019, Ginsburg was appointed to the California State Parks and Recreation Commission by Governor Gavin Newsom.
Denise Bradley-Tyson served as San Francisco's Acting Director of Cultural Affairs in 2020. She is Founder and CEO of Inspired Luxe, an online shopping platform for wearable art. Named by the San Francisco Business Times as one of the Bay Area's Most Influential Women, and was honored on the "Forever Influential Honor Roll." She was the first Executive Director of Museum of the African Diaspora (MoAD), was a long-serving member of the San Francisco Film Commission, serving two years as President, and served as Vice Chair of SF Travel's Tourism Diversity Committee. She was a board member of Alonzo King LINES Ballet and was on the Host Committee for SF Symphony's Annual Gala. Bradley-Tyson was instrumental in bringing "Soul of a Nation" to the de Young Museum. While based in London, she worked on "Africa Remix"— the most expansive exhibition of contemporary African art ever presented in Europe – mounted at the South Bank Centre. She is a graduate of Stanford University with a B.A. in Economics and Communications, and she has an M.B.A. from Harvard Business School.
Claudine Cheng is an attorney, passionate about civil rights, public policy and promoting appreciation of diverse cultures. She has served on Treasure Island Development Authority, SPUR, North Beach Citizens and Angel Island Immigration Station Foundation. A member of the San Francisco Film Commission, Cheng also currently serves on the board of the Asian Art Museum, Chinatown Community Development Center and the Human Rights Commission's Stand Together SF Committee. As founder and president of the APA Heritage Foundation, she leads the coordination of the City's annual celebration of APA Heritage Month and other multicultural programs.
Charles M. Collins is President Emeritus of the YMCA of San Francisco where he served for nearly two decades as President and CEO. From 1983 to 2002, Collins was President and Chairman of WDG Ventures, Inc., and its affiliated companies which were engaged in the investment and development of commercial and residential real estate. Collins has practiced law and was a former Deputy Secretary of the Business, Transportation and Housing Agency for the State of California. Collins serves on the San Francisco Arts Commission, the Community Council of the UCSF Center for Community Engagement, the board of the Commonwealth Club, Chair Emeritus of the ShapeUp SF Coalition, and the board of the San Francisco Museum of Modern Art. Collins holds a B.A. with honors from Williams College, with a double major in History and the History of Art, a Master of City Planning from MIT, and Juris Doctor from Harvard Law School.
Morning Star Gali is the California Tribal & Community Liaison of the International Indian Treaty Council working for the Sovereignty and Self Determination of Indigenous Peoples and the recognition and protection of Indigenous Rights, Treaties, Traditional Cultures and Sacred Lands. She is Project Director for Restoring Justice for Indigenous Peoples, and was a Rosenberg Leading Edge Fellow focusing on the disproportionate impact of the criminal and juvenile justice system on Native Americans. Gali continues to lead large-scale actions while coordinating Native cultural, spiritual, scholarly and political gatherings throughout California. She is deeply committed to advocating for Indigenous sovereignty issues such as missing and murdered Indigenous women (MMIW), climate justice, gender justice, and sacred sites protection on behalf of the tribal and inter-tribal communities in which she was raised.
Lisbeth Haas is Professor Emeritus and Research Professor in History at UC Santa Cruz. She taught classes on California, San Francisco, Indigenous California and feminist labor history, the borderlands, and has published award winning books. Her research has sought to capture the ideas and perspectives of the individuals and tribal communities she writes about, beginning with her first book, Conquests and Historical Identities in California. She works in feminist studies, Chicana/o studies and critical race/ethnic studies.
Roberto Y. Hernandez is CEO of Cultura y Arte Nativa de Las Americas (CANA) which produces the Annual Carnaval SF. He is the Founder/President of the San Francisco Lowrider Council. He was a Cultural Advisor for the film COCO. He has done marketing and event production for Cinco De Mayo, Dia De Los Muertos, and the 24th Street Cultural Festival. He was a community organizer for Cesar Chavez - United Farm Workers and was the Director of the Bernal Heights Neighborhood Center.
Lian Ladia is a curator and organizer based in San Francisco. She is currently a curatorial consultant for public art and engagement for a land use organization in SOMA Pilipinas. She is the Curator for Exhibitions and Public Programs at The David Ireland House at 500 Capp Street. She has an M.A. in Curatorial Studies from Bard College; has participated at the curatorial program at de Appel Arts Centre in Amsterdam; and is an alumna of SFAI. She is a board member of People Power Media and Clarion Alley Mural Projects. Her ongoing art projects involves the SOMA Pilipinas Cultural district, South of Market Community Action Network, Children's Creativity Museum, Minnesota Street Projects, Asian Art Museum and SFAI.
April McGill, M.P.A. (Yuki, Wappo Nations) is a California Native and San Francisco resident with a B.A. in American Indian Studies from SFSU, and a Masters in Public Administration, Tribal Governance from Evergreen State College. McGill is active in the Bay Area Native American community advocating for behavioral services for American Indian people. She is Director of Community Partnerships & Projects for the California Consortium for Urban Indian Health leading programs such as the violence against women Red Woman Rising Project. McGill is Executive Director of the American Indian Cultural Center of San Francisco and one of the founding advocates for the American Indian Cultural District in San Francisco. She is a board member at Intersection for the Arts.
​Ata'ataoletaeao McNealy (artist name: Afatasi The Artist) is an ADOS-Sāmoan, mixed-media conceptual artist and native of San Francisco, who works in relation to the Black and Sāmoan American experience, Afrofuturism, Afro-Pop art, and textile exploration.
Lydia So is an architect who provides solutions for cities through design and economics thinking – making positive impacts on regional economic growth, transit-oriented developments, cultural heritage preservations and public art advocacy. She founded and runs SOLYD, a successful minority- women-owned architecture, real estate and consulting company. So is a San Francisco Historic Preservation Commissioner, and provides governance to the City Planning Department. She previously served as an Arts Commissioner. So is an Advisor to the San Francisco Symphony board and Friends of Harvey Milk Plaza. She is on the Board of Directors for the BART Business Advisory Council, Chinese Historical Society of America, American Institute of Architects SF, and Asian American Architects & Engineers as its Vice President.
Sharaya Souza (Taos Pueblo, Ute, Kiowa) is Executive Director and Co-founder of the American Indian Cultural District and an ambassador for promoting equitable resource distribution to American Indian communities, increasing Native visibility and political representation, and protecting and preserving tribal cultural resources in the San Francisco Bay Area. Souza serves on several local advisory groups including the Climate Council, Aquatic Park & Pier Planning Committee, Housing Policy Committee, HRC Racial Equity in the Arts Working Group, Environmental Justice Working Group, and the Human Rights Commission Roundtable. Souza's previous work experience includes the American Indian Cultural Center, Twitter, California Native American Heritage Commission, the California Research Bureau, Office of Institutional Research, California Department of Water Resources, and was Governor Brown's Tribal Advisor on a variety of statewide issues that impact Native Americans.
Kiyomi Takeda is a Shin-Nisei (second)/Yonsei (fourth generation) born and raised in San Francisco. Her maternal grandparents were interned in the Topaz and Tule Lake internment camps during World War II. Kiyomi has actively organized and volunteered in the Japanese American community for over fifteen years. She served as the Northern California Cherry Blossom Festival Co-Chair and past board chair of the Nichi Bei Foundation. She has also been active with the Nihonmachi Street Fair, Osaka Matsuri, Northern California Soy and Tofu Festival, Japantown Chounaikai and was a founding member of the New Generation Nikkei Fund. She was active in Japantown for Justice as the Fillmore Relations Chair helping to deepen the relationship between the Japantown and Fillmore communities.
Reverend Arnold Townsend is a Fillmore resident and is the board president of the African American Art & Culture Complex. He is vice president and life member of the San Francisco NAACP, and an associate minister at Church Without Walls, a Baptist congregation. He has served as a Government and Community Relations Consultant, President of the Board of Directors for the San Francisco Economic Opportunity Council (EOC), and as a San Francisco Elections Commissioner.