Storm Recovery Resources for Artists and Arts Organizations
Recursos Para Apoyar a las Artistas y Organizaciones Artisticas Durante la Tiempo Severo

Mga pagkukunan ng impormasyon (Resources) para sa mga Organisasyong pang Sining at Artista na naapektuhan ng masamang panahon
在惡劣天氣下支持藝術家和藝術組織的資源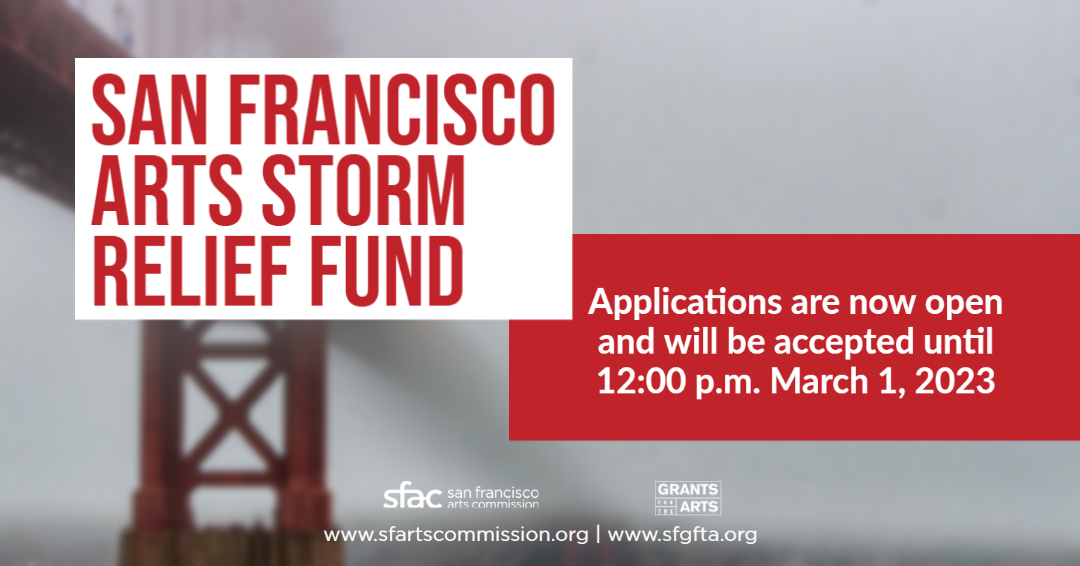 San Francisco Arts Storm Relief Fund
The San Francisco Arts Commission (SFAC) and Grants for the Arts (GFTA) are pleased to announce the availability of a storm relief fund program to provide financial support for San Francisco artists and arts organizations.
The Arts Storm Relief Fund program will provide grants up to $2,500 for San Francisco based artists or up to $5,000 to San Francisco based arts and culture nonprofit organizations and fiscally sponsored entities and artists who incurred damage to their property from the 2022-2023 winter storms. Damages must have occurred on or after December 27, 2022.
Applications available in:
Spanish (Español)
Chinese (中文)
View the Press Release
Severe Weather Resources
(Updates will be posted as resources are identified.)
The City and County of San Francisco continues to monitor severe weather forecasts. Multiple storm systems are anticipated to impact San Francisco over the next few weeks. Storms can cause flooding to homes, businesses, work studios, streets and may cause landslides in certain areas. Stay safe and up to date on the latest by visiting www.sf72.org.
San Francisco Public Works: Sandbags are available for SF Residents and Businesses. Limit 10 per address. Pick up at 2323 Cesar Chavez, entrance at Kansas & Marin streets.
Call or use the 3-1-1 mobile app to report flooding, clogged storm drains, and downed trees.
ONLY call 9-1-1 for life-threatening emergencies.
Sign up for AlertSF for real-time emergency alerts. Simply text your zip code to 888-777.
Mayor London N. Breed has announced the launch of new resources available to assist small businesses and residents impacted by flooding and damages from recent winter storms. Over the past several weeks San Francisco has experienced flooding, mudslides, and power outages that have impacted local streets, public buildings and infrastructure, residences, businesses, and community facilities.
The City offers a myriad of services to support the business community and their employees to recover as quickly as possible, such as job search assistance, access to unemployment information, guidance around licenses and permits especially if building repairs are required, and connection to additional financial and technical resources. Additionally, the San Francisco Arts Commission and Grants for the Arts are partnering to establish a special storm relief fund to provide financial support for San Francisco artists and art organizations. Details are forthcoming and will be shared on the agency's website. Read the full press release here.
With President Biden's approval of California Emergency, City would be eligible for potential relief funding for storm impacts retroactive to New Year's Eve. Read the full press release here.
Nonprofits who own their building and have 50 or fewer full-time employees are eligible for assistance and reimbursement up to $100K for making property improvements that help protect against flooding. Learn more here (click "Floodwater Management Grant Assistance Program" from the dropdown menu.)
Office of Economic & Workforce Development (OEWD) / Office of Small Business Resources
OEWD and the Office of Small Business are asking small businesses to share any documented damages related to the severe weather storm that will be compiled and shared with the state. Please send photos, location of damage, estimated costs, whether your business has insurance, etc. to sfosb@sfgov.org or call 415-554-6134.
Tips:
Contact your landlord. They may be responsible for repairs to the property, and may have insurance coverage as well. We can connect you with advisors to review and understand your lease.
Contact your insurance provider, if you have flood or business interruption coverage. They will give you more information about how to file a claim for recovery costs.
Get help with permits. If you need to make building repairs, our Small Business Permit Specialists can provide information and support.
Consider applying for a Floodwater Management Grant, from San Francisco Public Utilities Commission (SFPUC), which is for flood prevention improvements for small businesses with 50 or fewer employees, residences, and property owners that have experienced flooding in the past, up to $100,000. (Eligible expenses include designer fees; supplies, material and installation costs; permits and encroachment fees; plumbing; dry flood risk reduction; wet flood risk reduction modifications.)
FEMA Flooding Assistance Information
The Federal Emergency Management Agency is gathering reports of damage.
Minnesota Street Project Foundation Resources
The Minnesota Street Project Foundation has created an emergency relief initiative to offer financial resources to support artists in the San Francisco Bay Area impacted by the record-breaking rainfall and floods.
Minnesota Street Project Foundation's Artist Emergency Relief Grants will provide immediate assistance to visual artists with an initial seed fund of $20,000 to provide grants up to $1,000 to cover unforeseen expenses resulting from emergencies that impact artists' ability to work, including restoration, storage, and temporary studio space.
To contribute to the expansion of the Artist Emergency Relief Grants program click here.
Applications are available here and will be accepted and reviewed immediately.
Other Resources for Visual and Performing Artists, Cultural Workers, Small Businesses, Arts Institutions & Nonprofits
California Arts Council Natural Disaster Resource Page
NCAPER: National Coalition for Arts' Preparedness & Emergency Response